Access Engineering calls for consistent policy, coherent taxation
View(s):
Access Engineering PLC (Access), after battling economic depression and volatility last year, is looking forward to sound policy and saner politicking.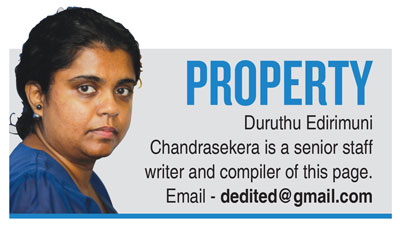 The company whose equity holders' profit surged by nearly 106 per cent year on year (YOY) to Rs. 630.6 million in 2QFY19 owing to a good performance in its core construction segment which saw net profit up six fold (YoY), didn't have it easy last year in terms of taxation and policy, as was the case with many firms.
Sumal Perera, Chairman Access told the Business Times that prices of main resources in his industry such as steel and cement along with exchange rate fluctuations impacted badly on firms in this sector. "It's difficult to budget in such an unstable setting," Mr. Perera stressed.
Access' topline improved by nearly 14 per cent YoY to Rs.7.8 billion in 2Q19 with contributions from contracting projects (nearly 55 per cent), subsidiary Sathosa Motors (nearly 25 per cent) and construction related material (nearly 18 per cent).
Access recognised revenue from Central Expressway (thus far nearly Rs. 4 billion received), 608 unit Housing Project – Borella, Anuradhapura Water Supply Project, Kadawatha Nittabuwa Road, Nanotechnology building project and work done at Cinnamon Life, according to latest data.
Analysts say that Access' recurrent earnings could grow more than 30 per cent YoY to Rs.1.6 billion in FY19E reinforced by a solid order book in construction driven by the ongoing projects (Central Expressway, buildings and water projects), incremental other income from sale of Horizon Properties (thus far received nearly Rs.375 million) and possible recommencement of halted other large ticket government-led projects during 2H19 in the wake of regained political stability.
Mr. Perera noted that another major issue the construction industry faces is adequate labour. "If the country wants to achieve growth, we need to open the construction sector labour market. Right now our resources are totally inadequate to cope with the current demand – especially in the skilled and semi-skilled worker categories," he said. This, he says is the primary reason that Access' two flagship projects (Marina Square in Mutwal and Capital Heights in Rajagiriya) were given to two large Chinese contractors – China State Engineering and China Harbour Engineering. "Their ability to access resources is far greater."
He said that as a company Access is training workers and it's trying to build a better base in-house. But with the demand that was hoisted upon all construction companies after 2009, one cannot build resources in the short term, Mr. Perera explained. Also training workers in-house became a double edged sword at one point when the projects were slow in the recent past. "We had to retrench some of these workers at the time," Mr. Perera said.
When asked whether Access was moving out of construction and concentrating more on real estate development, Mr. Perera stressed that it is not so, but the company is doing things that have synergy with the construction industry. "Now we are building 1,500 rural bridges." The funding for these projects is primarily coming from European countries like the Netherlands, UK, etc and Canada.
Mr. Perera added that Access' Marina Square project will be completed within three to four years and the Capital Heights project in Rajagiriya done with a West Asian investor will be completed next year.
Access was slapped with higher income taxes (owing to hiked tax rate to 28 per cent against the 12 per cent before) and the slowness in the local construction industry only grew by 1.4 per cent YoY in 2Q2018 against the 7 per cent in 2Q201) and these have hit hard on the company's revenue. Mr. Perera stressed that if the private sector is to be the engine of growth, this sector should be profitable. He noted that a portion of the profits that the private sector makes would be ploughed back into the economy. "This makes the private sector the engine of growth. This is how the economy benefits. So it's important to realise that it is dangerous for the private sector growth to be totally dependent on debt. While it is important that taxation is required for government budgets, it must be done on a win-win basis where growth is encouraged and it contributes to higher taxes in absolute terms."
Mr. Perera also highlighted the importance of investment relief for certain sectors to encourage investment.
Analysts say that a negative impact in the bottom-line growth of Access in the short term may occur due to the political instability which prevailed last year, coupled with the higher raw material import costs due to a weakening of the rupee against the US dollar.
Data showed better performance in construction related material (net profit up nearly 131 per cent YoY) and owing to healthy 'Other Income' which stemmed from the sale of Horizon Properties and also exchange gains. As a result, despite profits in 1Q19 dipping by nearly 39 per cent YoY, Access' net earnings for 1HFY19 increased nearly 11 per cent YoY to Rs.995.6 million predominantly due to better performance in 2Q'19.
Mr. Perera reiterated that today the global economy is ever-changing and one has to be vigilant and proactive in reacting to these changes.
"Otherwise as a country we will be in a lot of trouble going forward."