The best democracy money can buy
View(s):

Some years ago I happened to read an interesting book by New York-based investigative journalist Greg Palast.
Titled 'The Best Democracy Money Can Buy', the well-researched book provided an eye-opening insight into how American elections are manipulated, how British parliamentarians are bribed and all over the world, how power-hungry politicians prostitute the principles of democracy.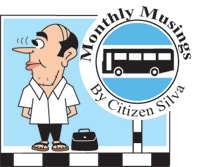 I was reminded of Palast's book last month, as we all witnessed the strange goings on in our own "Democratic Socialist Republic" – a Land Like No Other as the tourist blurbs proudly proclaim – where we had a president who had no clue about the very constitution he was supposed to uphold and two prime ministers who did not know whether they were coming or going!
It was an open secret that our own politicians were being openly solicited and manipulated by leaders craving for power. Even our pathetic president, when he was asked about this matter during an interview he gave to our sister paper the Daily Mirror, is on record as stating that Mahinda Rajapaksa could not show a majority in parliament because "the prices of MPs shot up surprisingly".
He is quoted in that interview as saying that some members of parliament "asked as much as Rs: 500 million to cross over" and that he personally knew of such situations. He even naively likened such negotiations to calling for tenders! The president of our country appeared not to be condemning the fact that parliamentarians were being offered bribes to cross over — but to be pointing out that the price being solicited for such crossovers was too high! There was even a cartoon in one of our sister papers with a picture of parliament house displaying a notice saying "Venthaesi ivara wena thek vasa atha" (Temporarily closed until the auctions are over).
We heard other stories about MPs being enticed not simply with cash but also with offers of minister's posts – as if ministries are gifts to be given to sycophants in exchange for professed loyalty. Such stories appear to be corroborated by the evidence of Palitha Range Bandara (a UNP member of parliament who had seventeen years of service in the Police force prior to taking up politics) who revealed, having made recordings of the relevant phone conversations, that he was offered Rs. 500 million plus a ministerial portfolio to cross over.
We heard about some of Mahinda's sycophants and supporters who sold rotting ropes to their master – and about certain people who went overseas to avoid phone calls from enthusiastic brokers.
I am old enough to remember the situation in parliament on November 20, 1964 when 14 members of Sirimavo Bandaranaike's SLFP crossed the floor of the House to join the Opposition and vote against the Throne Speech that set out the government's policy of nationalising the country's powerful newspaper publishing company. Popularly known as Lake House, this was the company founded in 1926 by Ranil Wickremesinghe's grandfather D.R. Wijewardene.
The professed motive of those who crossed over from the SLFP to the opposition, thus denying the government the opportunity of nationalising Lake House and controlling the country's press, was that they saw it as an attempt to control the nation's media and quell press freedom. Cynics, of course, observed that the then Lake House Managing Director Esmond Wickremesinghe (Ranil's father) had worked night and day, focusing many of his resources and leaving no stone unturned to ensure that the government failed in its endeavour.
Among those who crossed over were the leader of the house C.P. de Silva (who later on was rewarded by Dudley Senanayake with the Ministries of Lands, Irrigation and Power in the 1965 UNP government) and the MP from Matara, Mahanama Samaraweera (Mangala's father). When Mahanama lost the Matara seat at the next election, he was rewarded by Dudley with the chairmanship of the then profit-making Kantalai Sugar Corporation.
Democracy, as we know it, is no longer the government of the people by the people for the people. It is a means by which those who desire power use all their resources to persuade a gullible electorate to vote their people into office – and then use more resources to persuade those who have been voted into the legislature to stay with them and vote for them as leaders.
Offering five hundred million rupees to engineer crossovers of the people's elected representatives (as Palitha Range Bandara says he was offered) – or rewarding "honourable members" (like Ravi Karunanayakee who demonstrated unswerving loyalty to his leader, hanging around him like a bad smell these past several weeks) with key ministries appears now to have become the norm in this Democratic Socialist Republic of ours.
We can only hope that Ravi's new ministry will entitle him to official quarters worthy of his station.
Otherwise he may start looking out for another Aloysius to pay his rent for him and keep him in the manner, to which he had become accustomed.