Wildlife officers rescue injured turtle
View(s):

A member of the Kalpitiya wildlife range told the Sunday Times a critically injured Olive Ridley Turtle (Lepidochelys olivacea) was rescued by wildlife officials this week.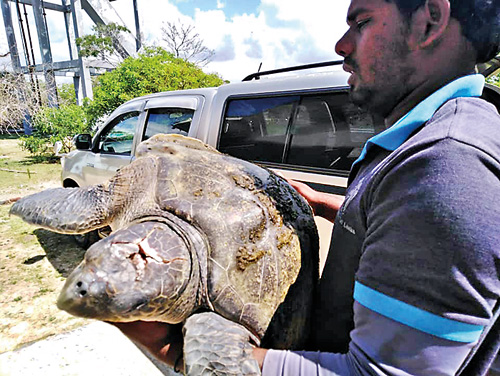 Manjula Morathenna, a Ranger of the Department of Wildlife Conservation (DWC) said the turtle with a gaping wound in its head was unable to swim and was found stranded along the coast. The amphibian was rescued by Wildlife officers patrolling the seas, he said.
The male turtle weighed around 50 kg.
DWC officers said they suspected a fisherman had tried to kill the turtle by using a pointed object on its head and added the injuries were so serious that they commenced treating the creature as soon as they captured it. Mr Morathenna said the turtle was in need of surgery.
The rescue was carried out by Wildlife Officer W.D.R.A. Metthasinghe, Boat Operator Shantha Sandaruwan and the Civil Defence Force officer Y S De Silva.