Surge in drug addicts sent by courts for rehab programmes
Text and Pix by Amila Gamage
View(s):
The number of drug addicts who have been placed in rehabilitation through courts has doubled in the past six months, the Bureau of the Commissioner General of Rehabilitation (BCGR) has said.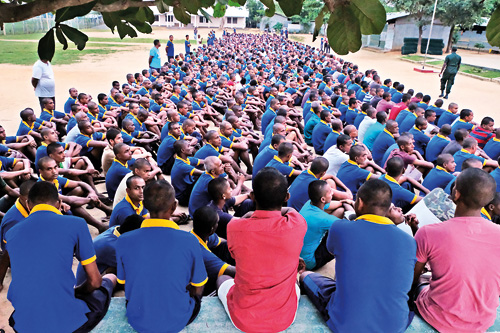 Drug addicts who are ordered to be sent to rehabilitation by court are placed in the BCGR-run centres at Kandakadu in Somawathiya and Navasenapura in Welikanda. Recently, a ceremony was held at the Navasenapura centre to mark the reintegration of 75 rehabilitated people into society. They underwent six months of rehabilitation.
Addressing the ceremony, BCGR Director Brigadier Azad Izadeen said that about 200-250 persons are placed in rehabilitation with them through courts every month.
He said the bureau had so far reintegrated nearly 2,500 rehabilitated persons into society.
There were plans to appoint a 'competent authority' to oversee drug rehabilitation efforts in the future and this would be done after the passage of an Act, the brigadier revealed.
About 2,000 people are currently undergoing rehabilitation at the Kandakadu and Navasenapura centres. About 75 percent of them are between the ages 18 and 28. The majority of these people are from the districts of Gampaha and Colombo.
Speaking to the Sunday Times, a 25-year-old youth undergoing rehabilitation explained their daily routine. "Our day at the centre begins at 4. a.m.. We shave and take a wash. We make tea at 5 a.m. At 5.30, we assemble for the roll-call and then go for PT. Breakfast is at 7.30 and classes begin at 8. I have no intention of getting back into drugs after I leave here."
We also met a 26-year-old youth who had won the national Wushu championship for three straight years in 2012, 2013 and 2014 before succumbing to drug addiction. He had studied at a leading school in Colombo and had also excelled in boxing at the national level. He urged young people not to destroy their lives by becoming addicted to something temporary like drugs.
The centre offers inmates 12 vocational training programmes through the National Vocational Training Authority. They are given the opportunity to obtain the internationally recognised NVQ Level 3 qualification.
Brigadier Izadeen revealed that they follow the progress of those reintegrated back into society post-rehabilitation through the Socio Economic Welfare Coordinating Office, which currently covers seven districts. According to their statistics, 50 percent of those who have completed rehabilitation have not gone back to drugs.
The biggest issues currently faced by the bureau in its rehabilitation efforts are the shortage of trained personnel and resources, officials said.