Private buses claim ignorance of fare cut order
By Chrishanthi Christopher
View(s):
Although the government announced a reduction in bus and three-wheeler fares last week commuters say private buses have not passed on the benefits of the fuel price cut by cutting their fares.
Last week, the government reduced fares on state-run buses by 4 per cent following the reduction in fuel prices announced on December 21.
The Private Bus Owners Association claimed it had not yet received the interim bus fare revision notice to act upon it. The road passenger transport authorities insist the list had already been sent to the relevant authorities for action.
The Omni Bus Association also said it had not yet received the notice with the revised bus fares.
The National Transport Commission (NTC), in charge of intra-provincial transport activities. said the revised fare list had been sent out to all nine Provincial Authorities and it was for the local authorities to implement the reduction.
Commission Chairman M.A.P. Hemachandra said there was no way bus companies could claim ignorance about the fare revision as it had been published on the NTC website and Facebook site. "We have done our part. The local authorities have to do the needful," he said.
The Western Province Road Passenger Transport Authority said the price revision notices had been sent to all seven pradeshiya sabhas and these had to send it to all depots. "I will look into the matter," Chairman Thushitha Kularatna said.
Meanwhile the All-Island Three-Wheel Drivers Association said it was difficult to implement the price reduction as all three-wheelers did not have a digital meter fixed on the vehicles.
The government last week also requested all three-wheelers to reduce the starting charge on a kilometre by 10 rupees to Rs. 50. Following three fuel price hikes in three months (July-September) under the pricing formula introduced by the government, three-wheelers had increased their starting charge to Rs. 60.
The three-wheeler drivers association President, Lalith Dharmasekera, said the absence of an effective compliance system allowed many trishaws to operate without meters although ordered to do so back in 2013.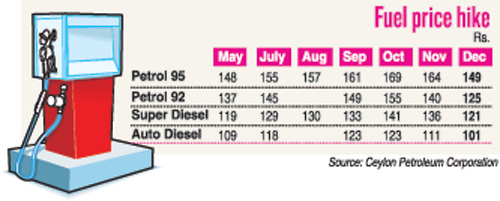 "How can we ask our members to reduce charges when their fellow three-wheeler drivers are benefitting by charging higher rates?"' he asked.
Mr. Dharmasekera said the public should ensure the meter gave the correct charge when they hailed a trishaw and should not use the vehicle otherwise. "The best way is to boycott travelling in unregulated three-wheelers. This will teach them a lesson," he said. The association has 400,000 members. Mr. Dharmasekera said he had informed them all to set a Rs. 50 starting charge on their meters and to charge Rs. 40 every other kilometre when travelling.
He said the government should regulate the fares. The government decision to appoint a Fare Reviewing Committee in 2013 to introduce a formula to calculate the fares of three-wheelers, had been scrapped four years later, he said.