Once they were displaced by war; now by floods
By Hassaan Shazuli
View(s):
The floods that affected the Kilinochchi District this week was a double whammy to families once uprooted by war.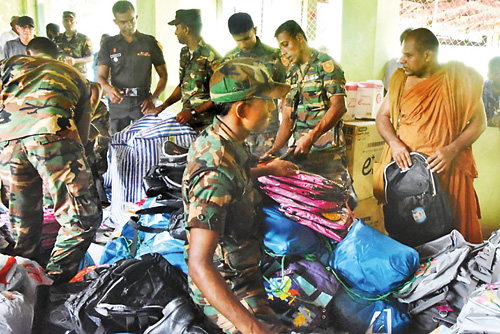 Kandasamy Vallupullai, who is in her sixties, said she was displaced by floods three times in her lifetime. The first was in the 1950s, then in the 80s. The waters that swirled through the district this week drove her to seek shelter with her family at the Kandavalei IDP centre.
"In between, I was also displaced by war," she said. "I thought my life in IDP camps would end after the war but it has happened again."
The flood waters which battered the North this week have begun to recede with rains expected to cease in coming days. The Meteorological Department said showers will gradually decrease up to January 4.
The victims have started returning to their homes, Pradeep Kodippili, Assistant Director of the Disaster Management Centre (DMC), said. Those with damaged houses have been paid Rs10,000 each while the maximum ceiling for compensation has been set at Rs2.5mn per household.
But the ruination is vast and will severely undermine the livelihoods of families who were among the most impoverished in the land.
More than 26,100 acres of paddy cultivation went under water and farmers are worried about how or when the Government will compensate this.
Additionally, more than 103 acres of vegetable plots were destroyed.
Big and small roads, around 1,430 kilometres in total extent, were affected. Bridges and culverts were damaged as well as 23 minor tanks, seven of them completely.
Statistics show that 123,234 persons from 39,681 families were affected by flood waters. The fully damaged houses numbered 474 while 4,522 were partially damaged.
Around Rs23 million has been spent so far to provide relief items for the flood affected victims in the North, said Disaster Management Minister Ranjith Madduma Bandara. They were provided dry rations, clothing and medicines as temporary measures.
"We are now evaluating the cost of damages to grant compensation to the victims," he said.
The situation has improved over the past few days and families were returning home, confirmed Suntharam Arumainayagam, Kilinochchi District Secretary.
A committee set up to assess damages started work on Friday and will submit its report in a week, he said.
Around 4 teams comprising 8 personnel each were deployed to rescue those marooned by the waters, said Army Spokesman Major General Vijitha Ravipriya. Rescue operations started around 5 am on December 22. Soldiers involved in the operation worked without breakfast or lunch to provide relief, he said.
The army rescued 435 persons from 137 families. The mission was no easy task as the strong current made it difficult to reach people in some areas. The rescue was facilitated by the navy and police who closed down certain roads that were deemed dangerous for transportation. The number of welfare camps has reduced from 21 to 12, Maj Gen Ravipriya said.
The navy also joined rescue operations, dispatching 6 relief teams and transferring 103 civilians to safe locations. They helped the Disaster Response Centre to supply necessary facilities such as mobile kitchens and lavatories, cooking utensils, ovens, tents and water pumps to those affected.
The navy also started cleaning up drinking water wells in Kilinochchi and Mullaitivu while providing 1,000 litres of clean drinking water to victims.
Velupillai Ravindrakumar, a 33-year-old father-of-two, said he had no permanent job. Now he had to get his life back on track because even the little he had was washed away. "The water level rose before our very eyes," he said. "We have lost everything again."
A security guard employed at the Kilinochchi market, R Theyathiswaran, said his house was flooded by water that gradually rose up to 5 feet.
He also claimed the Government did not provide compensation to people equally or as they deserved.
"My family has 12 members," he complained. "However, a family of 2-3 members gets compensation similar to mine."
The Government must take swift measures to repair the damages in schools that were affected by the floods.
V Parashakthy, 69 years, said families in her area had been asked to evacuate before the waters rose, but were not told where to go. They were simply asked to leave.