New machines to monitor foul air quality
By Shaadya Ismail
View(s):
Long-overdue equipment to measure air quality will shortly be operating in two pollution hotspots, greater Colombo and Kandy, replacing old machines that should have been taken out of operation eight years ago.
Air pollution has been increasing at an alarming rate in both cities, with irremediable lung diseases being reported among children in Kandy.
The Central Environment Authority (CEA) says two of its three new machines will be installed in fixed stations in Kandy and Battaramulla while the third will be a mobile station.
"The air quality of the country is below standard," CEA Deputy Director for Air Resource Management Kamal Priyantha said.
"A machine will be installed in Battaramulla because it is in close proximity to the country's capital. There have been claims made by people in Kandy that there is a high rate of air pollution in the area as a result of which people are suffering from major respiratory diseases," he said.
The current machines were installed in 1998 and needed to be replaced in 2008. "One cannot take scientific and practical decisions based on the current data," Mr. Priyantha said.
The current, analog machines need to be manually operated and monitored and are expensive to run 24 hours a day as well as being unreliable.
The new, digital machines are more accurate and will provide publicly available automatic real-time data.
Mr. Priyantha said that while Sri Lanka does not have huge industries and uses little coal, a great deal of pollution comes from the roads: 60 per cent of pollutants in the country were released by vehicles.
"Colombo district is the worst affected because of the increasing building population and vehicle population that increase air pollution," he said, adding that there was rising concern about the effects of pollution in congested Kandy too.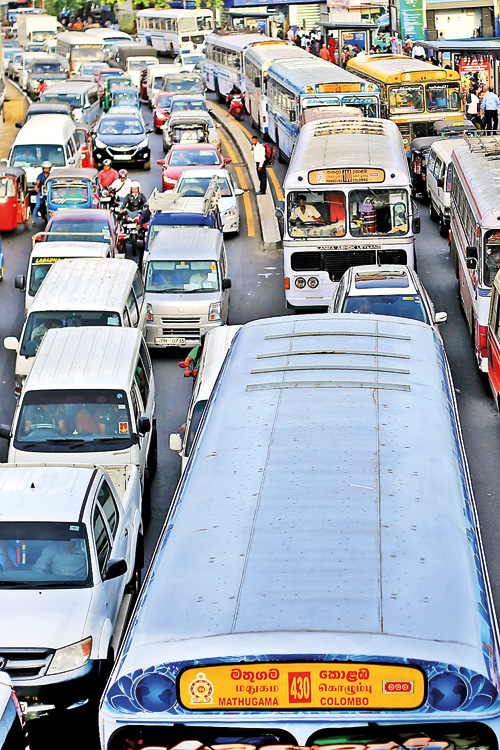 In Kandy, children have been badly affected by air pollution and some of the lung diseases are beyond recovery, Executive Director of the Centre for Environmental Justice, Hemantha Withanage said.
"The lifespan of the machines that measure air quality has expired way beyond the stipulated time period," he said.
Mr. Withanage claimed most new condominiums had been built without, as required by law, an Environment Impact Assessment (EIA), largely because of "the absence of machinery and tools to conduct such tests".
Air pollution is considered a nuisance under the law. In seeking action against a culprit, harmful effects of pollution need not be proven. A charged can be brought on the grounds of simply emitting noxious gases , environmental lawyer Jagath Gunawardena said.
The main law on air pollution is contained in the National Environment Act. Industries must acquire an Environment Protection Licence that stipulates permitted emission levels, Mr. Gunawardena said.
"The legal framework is present but the enforcement mechanism has not been well developed," he said.
The CEA will test-run its new machines for a month.