Children harmed as schools manipulate exam results
By Chrishanthi Christopher
Weak and poor students kept out of tests and upper school
View(s):
Education officials resorting to questionable behaviour to boost their schools' results in national examinations are jeopardising children's right to education.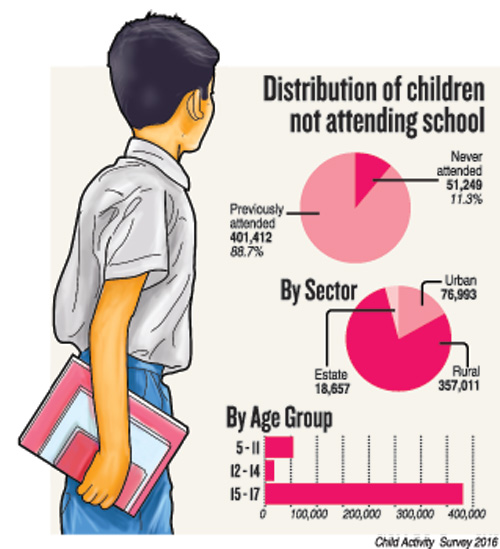 Two weeks ago, parents of 20 children from Haputale went before the Human Rights Commission of Sri Lanka (HRCSL) with complaints of discrimination. Some complained school authorities did not allow their children to sit the GCE Ordinary Level exams this year.
The parents claimed that the schools told them their children were weak in their studies and that they could sit the exam in 2019.
Reliable sources said 35 children from Bloomfield Tamil Vidyalam, Hatton, were declined admission to sit this year's O/L exams for the same reason.
Others complained to the HRC that their children, who had passed primary schooling, had been unable to get admission to the closest secondary school.
One child who had attended school up to Grade 5 at the Brookside Tamil Vidyalam was denied admission to Silver Kandy School as she could not pay a donation demanded by the school administration. In the same school (Brookside Tamil Vidyalam) 15 children had dropped out because they could not find another school.
A dismaying 18,567 children in the 5-17 years age group do not attend school in the estate sector, according to the Census and Statistics Department's Child Activity Survey 2016. The reasons include disinterest in education, unhealthy family environment, such as parents' separation/divorce, financial difficulties, engaging in family support activities, chronic illness and disability.
Teachers serving in schools in the plantation sector allege that students in public schools in those areas come under severe pressure from teachers and principals to excel in national exams.
A teacher in a provincial school in Hatton, who spoke on condition of anonymity, revealed that the pressure to show good results was causing stress among students.
Weak students who fare poorly at term tests were being prevented from sitting national exams, the teacher said.
This led children to lose interest in their studies and dropout, ending up as workers in vegetable gardens, hotels, construction sites and garment factories.
The teacher also stressed the need to review education policy, saying too much emphasis was placed on theory and there was absolutely no practical knowledge imparted to students at school. Students who were not able to cram subjects found it difficult to cope with exams.
"This is happening in all examinations, even in Grade 5 Scholarship exam, where every student is expected to get marks of 40 per cent or more," he said.
The push comes from the top, according to the teacher: the ministry secretary, directors at the district and zonal levels, principals and teachers were responsible for the state of affairs. "They need to show that they are working to get their increments and promotions," he quipped.
This has created severe competition among the provinces, the districts and the zones to show good results and eventually the pressure builds up on the children, with teachers pushing them to achieve higher scores. Teachers hold extra classes before and after school, coaching students for national exams.
Special classes are held as early as 6 am, lasting until school starts at 8 am. From 8 am to 2 pm the school timetable is followed. After school hours, special classes go from 2 pm to 5 pm.
Additionally, on Saturdays and Sundays, parents send their children to tuition classes on difficult subjects such as English, Science and Maths.
The Ceylon Teachers Union's (CTU) Nuwara Eliya District Secretary, V Indraselvan, said requests for donations in return for admission to schools had become usual in the plantation sector.
He said such practices have built up over years under some principals who have served in the same school for over 15-20 years without transfers; they demand donations to admit children from poor families.
The money is collected by the principals and no receipts are issued or accounted for.
Arutraj, a student from Brookside Tamil Vidyalayam, was asked to pay Rs2,310 for a 'building fund'. His parents could not afford the money and he was denied admission. Sometimes, even bags of cement are requested and the parent is asked to pay up at the nearest hardware shop and hand over the receipt to the principal who collects the cement and allegedly takes it home.
Hapless parents do not know where to turn for help, and the students become bitter and end up as dropouts.
The Education Ministry allows parents to contribute towards school funds, but insists that it should be voluntary and the maximum amount requested cannot exceed Rs600.
The CTU in Colombo said the problem exists in all provinces and zones because of the push coming from the Education Ministry.
The Census Department report quoted above states that, countrywide, 452,661 children aged 5-17 years do not attend school: 357,011 of these children belong to the rural sector and 76,993 come from the urban sector. The drive to push academic levels higher is also depriving children of their recreational activities. Schools do not allocate time for sports. Sports meets are held once every five years and some students pass out without participating in any sporting activity.
Education Department Zonal Director in Hatton, P Sridharan, offered a justification for the school authorities' actions in pushing students to achieving better exam results, saying principals and teachers had to earn their increments by showing good class results at exams.
"We are paid by the Education Ministry to show good results. How can teachers and principals get their increments if children do not perform?" he asked.
In the Ath Potha that has to be filled and sent to the Education Ministry, the school has to show an 80 per cent performance from teachers and 90 per cent from principals. "If the students are not pushed to study how will they pass the exams at the Ordinary Level and Advanced Level and go to university?" Mr Sridharan asked.
"I do not believe that we are taxing the children. If the children fail it reflects poorly on us," he said.