Bloody and tragic year for elephants
Human elephant conflict
View(s):
In the ongoing human-elephant conflict, 2018 is a bloody and tragic year for elephants, with more than 270 being killed; 15 of them dying after being hit by trains.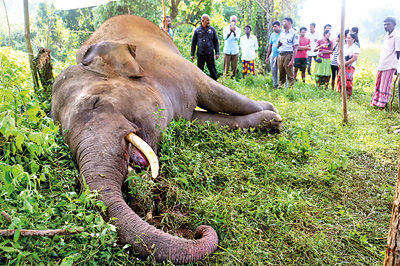 According to Wildlife officials, this year's elephant death toll of 271 upto November was 15 more than the figure for the whole of 2017. They said the number of elephants killed in train accidents this year upto November was two times that of whole of last year, with the bloodiest months this year being October and November.
In two incidents, six elephants were killed – two herds of three elephants each — when they were hit by an oil tanker train and a passenger train.
The dead elephants included pregnant and juvenile elephants.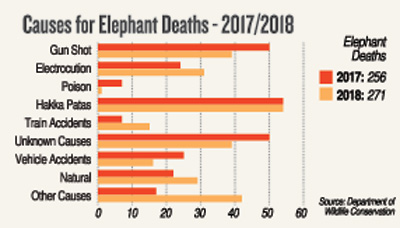 Apart from the elephants killed by moving trains, some were shot dead, while others were electrocuted.
In the most recent case, a young tusker, named Mugalan, was killed by a bullet while it was roaming in the Udawalawe National Park in the early hours. For wildlife officials, a serious concern is the agonising deaths the elephants suffer when they swallow hakka patas, usually a pumpkin or cucumber filled with explosives. It is used by poachers and wild boar hunters.
"Around 54 elephants suffered the agonising death this year upto November after eating hakka patas. A similar number of elephants died in this manner last year," an official said.