MSC Cruises call at Colombo Port
View(s):

MSC Cruises, the Swiss-based world's largest privately-owned cruise line called at Colombo Port recently on her way to Singapore.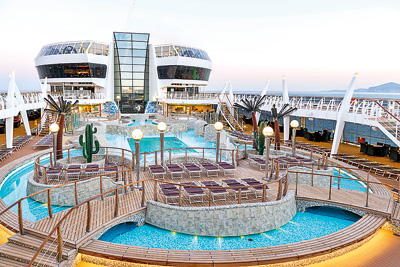 The 118-night voyage sails roundtrip from Genoa and Civitavecchia in Italy, Marseille in France and Barcelona in Spain and takes guests literally across the globe in one single voyage of discovery.
Going westwards, the first leg crosses the Atlantic to the islands of the Caribbean and through the Panama Canal, sails the west coast of the continent (Costa Rica, Nicaragua, Guatemala and Mexico) to San Francisco. The second leg visits the scenic Maui and then volcanic Hawaii, Samoa, Fiji, Auckland in New Zealand, Sydney and the Australian Golden Coast together with Cairns, Papua NG and the Philippines.
After visiting Kyoto, Tokyo and Shanghai in China, the third leg cruises to Hong Kong, Vietnam, Singapore and Malaysia allowing its guests to discover this part of the Asian Continent. Finally, crossing the Indian Ocean to Sri Lanka and Dubai.
NKAR Travel is the Sri Lankan agent for MSC Cruises.