A budding venture now in full bloom
By Tarini Pilapitiya
View(s):
"Bud – Let Love Grow" – the small scale start-up run by interior designer 'buddies' Ameera Marzook and Amanah Mohideen is now a blossoming business.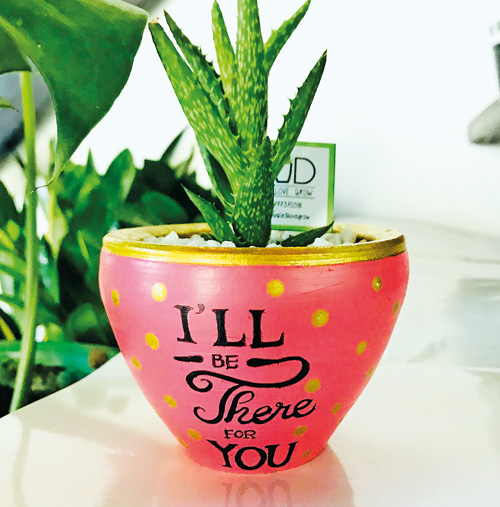 It was a happy accident when 21-year-old Ameera, a former student of Lyceum International met the now 23-year-old former Bishopian Amanah at Raffles Colombo where both were studying interior design.
"There were so many paths that I wanted to take initially. Architecture was my career goal but I'm glad I did design instead because that's where I met Ameera," Amanah recalls.
Their interior design course fuelled their creativity whilst their fondness for plants and gardening came to their aid when they got punished for not submitting a homework assignment. "We were supposed to do a business proposal," Ameera smilingly recounts how the two had to immediately brainstorm an idea on the spot as they awaited their teacher's arrival.
Both girls reflected on their delight when receiving flowers and their dismay when they faded. That thought allowed them to visualize a plant- gifting venture. They looked for pictures and researched potted plant businesses to put forth a sustainable idea in a matter of minutes.
"There were a few businesses which sold plants but the personalization factor was missing," Amanah shares with Ameera readily agreeing. "It was just another basic plant in a pot."
Gifting a plant, you encourage a sense of purpose in the receiver allowing them to be owners of a gift that continues to grow. From this was born their name – "Let Love Grow". Although officially commencing operations in 2016 "the seeds of the initial idea" were planted in 2015, Amanah says.
Their first order for an engagement party allowed them to distribute little buds along with their contact details just to "see how it goes". From the positive response they got, the girls then decided to launch social media pages noting that their target market was mainly teens and young adults.
A business built purely on organic growth, at present, Bud has over 3000 followers on Instagram and over a 1000 likes on Facebook and a fast expanding corporate clientele. When Cinnamon, MAS, Sampath Bank, Union Assurance etc. started requesting orders both girl knew that Bud was growing.
Customisation and personalisation of products, they feel, is key. "Gifting a plant to someone you give them the added responsibility of taking care of something," Amanah shares. Adults and older generations really appreciate the flora. "It's not one of those gifts where you gift it and then it's completely forgotten about," she adds.
The corporate interest in the business largely stems from companies wanting to create a homely environment at work and "bring the out in" the girls noted. "We started at a good time when the trend in 2016 was to bring a back a sense of biophilia," Ameera informs us. "We launched when people were embracing the greenery more and it's only natural to our tropical country," Amanah states.
At Bud, customers can pick from a variety of plants; succulents, cacti, Sanseveria, Aloe, Jade plant, ZZ Plant/ Lucky plant, Bamboo, Money plant and larger indoor plants like Monsteradeliciosa, Elephant ears, Calethea, Peace lily, Birds of Paradise etc.
They also provide site visits to corporates, especially for orders of larger plants to ensure the plants are artfully placed and also positioned in ways to reap the required sunlight, space, air etc. for their survival. Some of the plants available at Bud also offer health and well-being benefits.
Bud's ideology is to attempt to give everyone a chance to be a plant owner, regardless of whether they possess a green thumb or not. "It's always nice when you take care of something and you can see your efforts pay off when it grows," Amanah grins.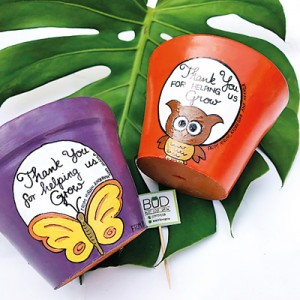 "You have to look at the plants like they have feelings," Amanah states. "The more you care for something the more it grows," adds Ameera however cautioning that some plants (namely the smaller varieties) actually require less care or in short – too much love can kill them.
The roots of this small scale business are also built on a socially conscious platform. The hand painted terracotta pots are made and sourced in Sri Lanka. "It's one of the most famous cottage industries which Sri Lanka is known for and we wanted to bring that back," Amanah affirms establishing the importance of purchasing and supporting local products.
"Our College pushed us to think outside the box," Ameera adds. The idea behind using terracotta rather than plastic pots was also attributed to an art and pottery class held at Raffles Colombo allowing the girls to get well acquainted with the pottery industry as well.
A start-up built on the foundation of love, they never imagined that merging a customized pot and plant would have so much added value to personal gift giving. Ameera laughs, "My mom likes to sneak a peek at the customers' when they come to pick up a bud because there's so much joy on their faces."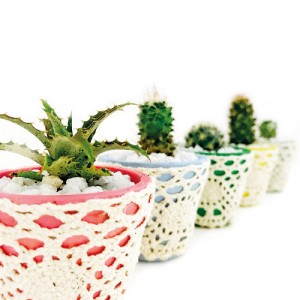 They take care to create exactly what the customer requires. From polka dots to patterns, pugs to butterflies, bud-moji (a bitmoji inspired caricature of people) to even your favourite superhero, Bud can draw up anything giving you a personalised present you can be proud of.
The girls hope to diversify by branching into Bud branded stationery to keep their business fresh. "Whatever we branch into we just hope the concept of love follows," Amanah shares.
Check out "Bud – Let Love Grow" on their Facebook page and Instagram page (@bud.letlovegrow) for more information.