Casualties emerge from 2018 political turmoil
By Our Political Editor
View(s):
As year ends, President faces rebellion by senior party members who lost portfolios after national govt. collapsed
President pushes for tie-up with SLPP; but Rajapaksa insists on clear-cut arrangements for electoral alliance
No clear position on who will be the presidential candidates from all major parties
A tumultuous year, which created a political crisis unprecedented since Sri Lanka's independence, ends tomorrow.
Within a span of just 52 days, a so-called national government's constituent parties which pledged unity nearly four years ago fought each other. If they vowed to fight bribery, corruption and even misrule, those evils proliferated. They reached newer heights because opportunities were more and supervision was less. These came as double tragedy for Sri Lankans. As for the wrongdoings, the stakeholders, who should have been dealt with, ended up in exalted positions with more power. Forgotten are the solemn promises made ahead of presidential and parliamentary elections in 2015. Ironic enough, files of important cases have gone missing or ended up in wrong hands.
The political turmoil, which began with the ousting of Prime Minister Ranil Wickremesinghe on October 26, also snowballed into many areas. There was a re-alignment of political parties, much the same as the planetary changes that held out forebodings, both good and bad, for politicians. The worst hit was the Sri Lanka Freedom Party (SLFP)-led United People's Freedom Alliance (UPFA).
In the midst of the inability of its MPs to join the United National Party (UNP)-led UNF (United National Front) government, and the membership dwindling, the party is in the throes of a crisis. Their leader President Maithripala Sirisena forbade them from joining and has declared he will tie up with the Sri Lanka Podujana Peramuna (SLPP).
That the SLFP was losing its grassroots level support became clearly evident from the outcome of the February local council elections. It only polled a meagre 12 percent of the vote: That too due to its tie-up with the plantation party, the Ceylon Workers Congress (CWC). If that was bad enough, it emerged that the SLPP had made its debut as a major political force garnering 40 percent at the country's biggest ever local polls. The largest eligible number of voters cast their votes.
Ahead of a private visit overseas during the Christmas season, President Sirisena chaired a meeting of the party's onetime electoral organisers, all of whom he had stripped of their positions. He made the announcement of their removal at a Central Committee meeting this month. Sirisena told the onetime SLFP organisers that he planned an electoral arrangement with the SLPP leaving the impression that such a deal has been worked out. For him, such an exercise appears to be foremost.  That would unite the present SLFP members together with those who quit and are now with the SLPP.  Yet, that is no easy task. The President left the meeting after his speech to travel to the airport.
He and members of his family flew to the Thai capital of Bangkok for a holiday in a visit that has been described as "strictly private." He was at the Presidential Suite of Anantara Hotel in Bangkok's Pratunam area, most popular for Sri Lankan shoppers because of the small but cheap markets. Playing the role of a Gentlemen-in-Waiting was a Sri Lankan millionaire gem businessman Saroof Akram, a personal friend of Sirisena. Akram and his Thai wife were on call and Sirisena made a day trip outside Bangkok on Thursday. The Anantara, which has investments in Sri Lanka, has been home for Sirisena when in Thailand. He stayed there during his official visit in November 2015. So did his predecessor, Mahinda Rajapaksa when he visited Thailand in April 2016.
After Sirisena withdrew from the meeting, trouble broke out when General Secretary Rohana Luxman Piyadasa was speaking.
A sizeable section who were present were strongly vocal against an SLFP (albeit UPFA) tie up with the SLPP. They opined that it would have been better for them to have backed the UNF. Video footage of groups advocating for and against the tieup with SLPP nearly coming to blows went viral on social media. The meeting had to be adjourned abruptly. The move has also led to a shutdown of the SLFP headquarters at Darley Road. Though the official reason was given as the seasonal closure, other sources said it was prompted by fears of a group within the party taking control. It was a grim reminder of when the party headquarters was taken over by a faction led by party deputy leader Maithripala Senanayeke when Sirtimavo Bandaranaike was party leader.
However, the de facto SLPP leader Mahinda Rajapaksa told heads of partner groups that whatever arrangements to be worked out would have to be ratified by his party organisations. Though he noted that sections of the membership had criticised some of the recent moves, an arrangement with Sirisena is by no means off the table. It appears that the SLPP will be insistent on a firm basis for such an electoral pact, a move which means it will place its own conditions. SLFPers hope to conclude a deal by January but those in the SLPP are sceptical about the time frame.
There are indications that Mahajana Eksath Peramuna (MEP) leader Dinesh Gunawardena, the SLPP's prime mover cum ideologue Basil Rajapaksa and another leader of a partner group will meet President Sirisena after he returns from Thailand today. The idea is to discuss the broader parameters within which a common alliance and an electoral arrangement could be worked out. "At this stage nothing is conclusive," said a top ranking SLPPer who did not wish to be identified. It is the talks that would give us an idea of what each side would wish to have. It is only thereafter that we have to take the next step, he said.
It is thus clear, that since Sirisena took over the leadership of the SLFP from Mahinda Rajapaksa, it is not only he who is facing challenges but the party, too. Paradoxical enough, he now has to turn to his predecessor and his short term Prime Minister to ensure political continuity and re-unite. That is both for himself and the SLFP a change of fate. Here again, the overarching question is whether Sirisena still has ambitions of becoming the presidential candidate, a matter on which the SLPP says no consideration has yet been given to the entire issue.
Challenges facing UNP
The ruling United National Party (UNP), which has been torn by internal frictions, received a new lease of life after its leader Wickremesinghe was ousted as Prime Minister. However, his re-induction on December 16 as Premier did bolster his position. Adding to that was the consolidation of his support base which rallied around him on the constitutional issues raised over his removal. The flip side is some of those who supported, particularly the party MPs, now want to encash their IOUs. They are staking their claims for ministerial and deputy ministerial positions.
There are many challenges for the UNP. Some western diplomatic missions have learnt that frontline NGOs that had done 'surveys' show that Rajapaksa continued to wield wider grassroots level support and could be a winner at an election. Their approach has been two pronged — a thaw of relations among those at the highest levels of the SLPP as well as sounding a note of caution to the UNP. Of course, other NGOs backing the government argue otherwise.
One of the major challenges for the UNP, ahead of an election with only a time period of just more than a year remaining, is building up its support base at grassroots level. If one is to go by its performance at the local council elections, it is a formidable task. The party polled only 29 percent of the votes at the February local polls. Amidst this, some UNP seniors are also calling for parliamentary elections next year. Another critical issue for the party, which has already become the subject of discussion, is who will be its candidate for the presidential election.
Those closely associated with UNP leader Wickremesinghe said he should be nominated. They include Mangala Samaraweera, Malik Samarawickrema, Sagala Ratnayake and Akila Viraj Kariyawasam. Another group including Thalatha Athukorale and Ajith Perera insist it should be someone else. They are in favour of Sajith Premadasa, the deputy leader.
"A formal UNP decision on who the candidate should be at the presidential election is yet to be made," UNP Chairman Kabir Hashim told the Sunday Times. He said the UNP was at present engaged in forming a broad alliance, one which Premier Wickremesinghe said would be called the National Democratic Alliance (NDA). He said the party would, thereafter, get down to work on an "election time table" and agree on a candidate. As for the NDA, parties represented in Parliament — the TNA and the Janatha Vimukthi Peramuna (JVP) — have made clear they would not join. The rest of the parties are already in the UNF and thus the NDA could mean only a name change with a coterie of civil society groups. The latter had also backed the UNP.  There is little doubt that the UNP will be mired in a serious controversy when the issue of a presidential candidate climaxes.
Nevertheless, the idea of an NDA had been mooted on the basis that the group of SLFP parliamentarians now backing President Sirisena would be allowed to join such a grouping and thus retain their identity. The group is livid that Sirisena forbade them from having any alliance, and thereby accepting portfolios. The issue is not yet over. The SLFP parliamentarians have been meeting in small groups to discuss their dilemma. At a recent meeting, most of them blamed President Sirisena. They said that his move to oust Wickremesinghe and foist Rajapaksa as Premier by winding up the National Government has ended in their losing the ministerial portfolios they held. The vociferous among them even want to defy Sirisena but fear he may threaten not to swear them in if they take such a decision. Another meeting to discuss issues with the President in the coming weeks is not being ruled out.
TNA and the opposition leader's post
This year also saw a historic feat by the Tamil National Alliance (TNA). Its 14 MPs extended support to the UNP for its leader Wickremesinghe to become the Prime Minister. The principal architect for the move was TNA parliamentarian Abraham Sumanthiran. That unexpected backing drew a critical response from Eelam People's Democratic Party (EPDP) leader Douglas Devananda. He is the only MP from the party to represent the Jaffna District. Devananda told the Tamil media in Jaffna that "if the TNA wanted to help the Tamil people, it should have joined the government. It could have taken over matters relating to rehabilitation work. The TNA's entire exercise is a political stunt and was to support Wickremesinghe."
However, Sumanthiran has declared that the TNA took the step "to save democracy." He is also to go to the Supreme Court to save the post of Leader of the Opposition, for his own leader Rajavarothayam Sampanthan. This is after Speaker Karu Jayasuriya announced in Parliament that he recognised Mahinda Rajapaksa as the Leader of the Opposition. The SLPP de facto leader Mahinda Rajapaksa told the Sunday Times,  "As far as I am concerned, I am the Leader of the Opposition. The Speaker has made that announcement in the House. I have nothing personal against Mr Sampanthan whom I respect as a person."
JVP's dilemma
Facing greater challenges is the Janatha Vimukthi Peramuna (JVP). After being a passive ally of the UNP for nearly four years, It has shown signs of opposing the UNP on selected issues. The move appears to be to appease its own members who have begun to raise dissenting voices over the JVP's alleged backing for the UNP. At least in the coming year, the JVP would have to shore up its membership if it is to ensure that it retains the six seats it now holds, leave alone winning more. That will be no easy task for the JVP particularly with the social media exposing the close nexus between some of its leaders and some UNP ministers. Such exposures, amidst reportage of the recent political developments, also prompted the JVP to "go on the offensive" publicly but on selected targets.
Sirisena-Rajapaksa tie-up: More details emerge
More details of how the 52-day-long political turmoil originated are now becoming clear. The Sunday Times is able to reveal today that the first move by President Sirisena to make contact with Mahinda Rajapaksa was through Democratic Left Front (DLF) leader and Parliamentarian Vasudeva Nanayakkara. He received a message that Sirisena wished to meet him. Nanayakkara told Rajapaksa of the matter and had a meeting with the President thereafter. Later, at a meeting Nanayakkara briefed Rajapaksa on the broader contours of a proposal by Sirisena to form a government. Rajapaksa had made a study but later ruled out the proposal.
It was several days thereafter that a four-member SLFP delegation visited Rajapaksa at his Wijerama Road residence. They were S.B. Dissanayake, Lakshman Wasantha Perera, Thilanga Sumathipala and Dilan Perera. The first thing the team did was to urge that utmost secrecy be maintained about their visit. One of them told Rajapaksa "Sir, Madamta wath kiyanna epa" or Sir, do not even tell the madam" (meaning his wife Shiranthi). They said they had come with a message from President Sirisena to form a new government and spelt out the outline. The next day Rajapaksa consulted his close advisors and associates. A green light was given to move forward.
A hint by Dilan Perera during a television talk show weeks ahead of the first meeting went unnoticed. He suggested that President Sirisena and his predecessor Rajapaksa would be talking to each other. He, however, did not elaborate.
The first formal meeting was held at the Makola residence of Wasantha Lakshman Perera, who is MP from the Matale Distict. It is located some distance away from Kiribathgoda. Taking part were President Sirisena, Mahinda Rajapaksa, Basil Rajapaksa, S.B. Dissanayake and Lakshman Wasantha Perera among others.
It was the second round of discussion that was held at S.B. Dissanayake's residence in Battaramulla and not the last as reported earlier in these columns. For this meeting, the two Rajapaksa brothers arrived early and were followed later by President Sirisena. Dissanayake, who played host at a dinner, walked in and out of the air conditioned drawing room where discussions were held. He had to serve coffee and soft drinks and carry out other chores.
The third and the final round of talks, once again took place at the Makola residence of Wasantha Lakshman Perera. Here, both Dissanayake and Perera played a greater role explaining the different matters that would arise. One source said on both occasions the two sides were confident that they would be able to raise the required majority support in Parliament. Other than the SLFP foursome who were sworn in to secrecy, President Sirisena kept the dialogue a top secret and never discussed it with anyone. A few days went by as President Sirisena kept thinking about a date to oust Wickremesinghe and swear-in Rajapaksa.
One night, Rajapaksa was returning to Colombo from Tangalle, when his mobile phone rang. It was Lakshman Wasantha Perera who was calling. He had a message for him — President Sirisena wanted him to remain in Colombo for the "next few days" and not to travel outstations. Rajapaksa was annoyed. "How can I do that?" he asked Perera. Perera then pleaded that he should remain at least for one night in Colombo.
By then, the Sunday Times of October 7 had revealed exclusively that Sirisena and Rajapaksa had met at the Battaramulla residence of S.B. Dissanayake. The report spoke about Sirisena complaining that he found it "extremely difficult" to work with Prime Minister Wickremesinghe and wanted to appoint Rajapaksa as Prime Minister. It was to create chaos among those who were in the know.
President Sirisena, who was livid at the news being broken, was somewhat critical of the Sunday Times Political Editor, and asked Dissanayake how the story of secret talks leaked. "How could he do this when he has accompanied me on two different foreign trips?" Sirisena asked. He noted that the report only had reference to the meeting at Dissanayake's Battaramulla residence and not to the other two meetings. Similar questions were also raised by Mahinda Rajapaksa. He charged that all that while the first meeting had remained a secret. How come it only leaked when it was held at Dissanayake's residence? He, in fact, asked S.B. Dissanayake whether he leaked it to the media to "gain political advantage." The former Minister flatly denied the accusations.
This is how Dissanayake put out a statement that a meeting between Sirisena and Rajapaksa had not taken place at his Battaramulla residence. It was a blatant lie. But it did fool some people who still tend to believe what the former minister says in public. Instead, Dissanayake claimed, Rajapaksa had spoken to a group of his MPs about the prevailing political situation. Following this, Dissanayake became a casualty. He was kept out of the rest of the Sirisena-Rajapaksa dialogue including the different telephone conversations President Sirisena had with the parties in the know.
On the night of October 25, just a day ahead of Wickremesinghe being ousted as Premier, Lakshman Wasantha Perera turned up at the Wijerama residence of Mahinda Rajapaksa. He said all arrangements were now in place for Rajapaksa's swearing-in as Prime Minister. Just then, Perera's mobile telephone rang. After he answered it, he handed it over to Rajapaksa. It was President Sirisena confirming that Rajapaksa would be the new Prime Minister the next day. Rajapaksa asked him whether he could bring along with him his close aides, supporters and partner leaders for the swearing-in ceremony. "That is a good idea," replied Sirisena and advised Rajapaksa to await a call.
He was attending a wedding at Shangri La Hotel on the night of October 26 when he received the call. Others in the know, including SLPP ideologue Basil Rajapaksa, who were told in advance were alerted. Interesting enough, former Defence Secretary Gotabaya Rajapaksa had been informed to turn up but not told the reason. He was not part of the dialogue. Perhaps thinking it was not that important a meeting, he did not show up. Only through a telephone call from a friend, did he learn that his elder brother Mahinda had taken his oaths as Prime Minister. S.B. Dissanayake, who was sidelined, was in Nuwara Eliya but had got wind of the swearing-in. That was how he turned up at the Janadipathi Mandiriya  (President's House) in a T-shirt whilst all others were immaculately clad for the occasion.  Later Rajapaksa guffawed to his backers, "I may be the shortest serving Premier."
One of the most important messages from this prolonged secret dialogue between Sirisena and Rajapaksa is for UNP and its leaders. They were blissfully unaware of what was going on. So much so, even after a western diplomat telephoned the then Premier Wickremesinghe from London about what he had read in the Sunday Times, he decided to finish his programme and return. This, naturally, is a gross failure for the UNP. Prior knowledge could have diverted the course of history and saved considerable humiliation for UNP leaders. That clearly showed that they were cut off from realities that posed a threat to them. And it was not the first time it had happened. Even back in 2004, Wickremesinghe was unaware when the then President Chandrika Kumaratunga dissolved Parliament despite a solemn pledge in writing not to do so. He was in Bentota when it happened. This time he was in Galle when he got to know.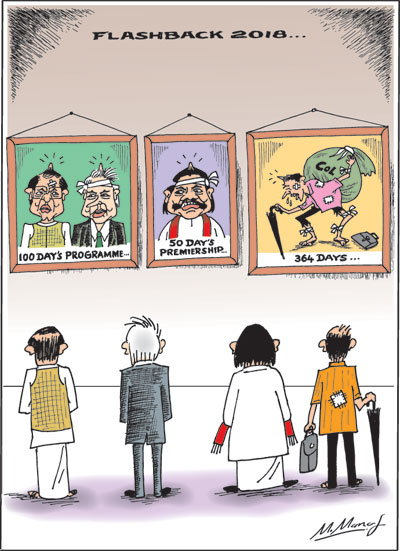 Now that President Sirisena has resorted to the status quo ante, a new UNF government is in place. A great deal of damage has been done to both to the country and the economy. The SLFP parliamentarians who supported Sirisena are now without portfolios and are threatening to rebel against him. He has thus become more dependent on Mahinda Rajapaksa as never before. Premier Wickremesinghe and his closest ministers had put paid to investigations into his predecessors and badly dented their own credibility and lowered the public confidence in them.
As 2019 dawns at midnight tomorrow, one strong test of strength for all political parties will be the Provincial Council elections. National Election Commission Chairman Mahinda Deshpriya, for whom one of the pet phrases is "the Gordian Knot," is in a dilemma. He does not know the electoral system to be used for the PC polls. He is now consulting legal opinion and may go to the Supreme Court to seek a declaration if Parliament is unable to approve a new electoral system after political parties reach consensus.
The biggest loser in this year's political turmoil is President Sirisena. Premier Wickremesinghe did win the battle mostly due to Sirisena's actions. However, he faces many wars in the weeks and months to come. As often pointed out in these columns, a quantum shift in his approach becomes inevitable. This year's events prove the UNP's blissful ignorance of what is going on the other side of the divide, within the party and more importantly in meeting people's aspirations. Yet, the more things change in the UNP, the more it remains the same.
Last week in these columns we reported that Malik Samarawickrema was one among the four member delegation led by Premier Wickremesinghe when it met Maithripala Sirisena. This was wrong. It was Navin Dissanayake, the UNP National Organiser. Samarawickrema did not attend. The error is regretted.
MR ready to support motion for early general elections

The Sri Lanka Podujana Party (SLPP) will back any motion in Parliament calling for parliamentary elections, its de facto leader Mahinda Rajapaksa said yesterday.

"We have been calling for elections for a long time now. If any party wishes to move a motion in Parliament in keeping with the Constitution we will support it," he told the Sunday Times.

Constitutional provisions, recently re-iterated by a Supreme Court ruling, require a two-thirds vote in Parliament for the conduct of elections ahead of the stipulated time.

Although some UNP members, including their front line leaders, have declared there should be parliamentary elections, formally the party has not made its position clear.

Rajapaksa's assertions come just ahead of President Maithripala Sirisena set to have talks with the SLPP to form an electoral alliance. If they reach fruition, the move will mean the Sri Lanka Freedom Party (SLFP) too would back the call for elections. However, some SLFPers are veering towards supporting the UNF government.