Yasa wins 'Tea Masters Cup International 2018'
View(s):

Yasarathna Bandara from Habarana Village by Cinnamon received global acclaim once again at the prestigious 'Tea Masters Cup International 2018' championship held in Vietnam.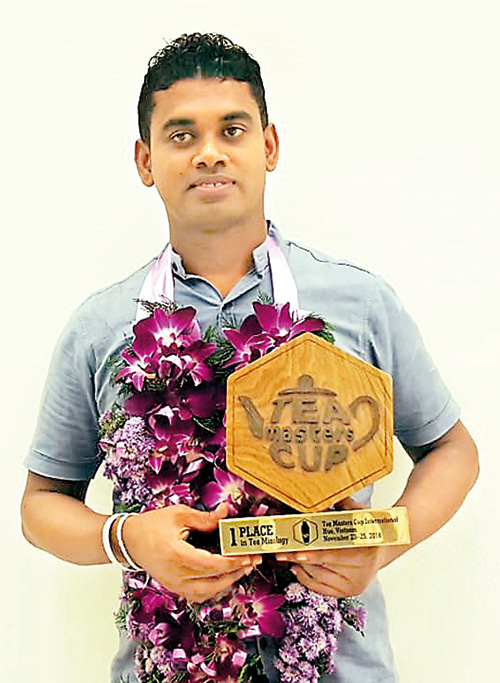 Cinnamon Hotels and Resorts continued to put Sri Lanka on the map and shine as a trendsetter in the hospitality industry, with team member Yasarathna Bandara securing a prestigious gold award at the recent 'Tea Masters Cup International 2018'.
Securing the top spot in the 'Mixology' category, he emerged victorious at the competition which took place in Vietnam from 23rd – 27th November. Upon his return to Sri Lanka, he and his family were welcomed back in style by the entire team at the hotel.
The championship is an international competition that features representatives from 16 countries, and this year, 30 top tea connoisseurs, including tea tasting, brewing and mixology professionals came together to showcase their skills and expertise. After creating two multi-ingredient tea-based beverages with flair and a contemporary twist, Yasarathna secured the gold award in his category.
Following Yasarathna's victory at the 'Ceylon Tea Masters Cup' earlier this year, he took part in the 'Hotel Show Colombo 2018', organized by the Ceylon Hotel School Graduates Association, where he secured a winning spot as well. He was then selected to represent Sri Lanka in the 'Tea Masters Cup International'.
Since its inception in Russia in 2013, the 'Tea Masters Cup International' has helped to create a specialist community of tea enthusiasts, who are focused on finding creative ways to take the tea industry to the next level.
The competition covers four categories such as, Tea Preparations, Tea Pairing, Tea Mixology and Tea Tasting. Sri Lanka has been an active participant in the competition over the years and Yasarathna Bandara joins several other winners from the island who have received recognition at the championship.