Why this 'Claus' matters
By Sashini Rodrigo and Ruqyyaha Deane
View(s):
In 280 A.D. in Patara, near Myra, (modern-day Turkey) a boy named Nicholas was born. He grew up to become a Bishop. Nicholas had quite a substantial inheritance from his family and rather than use it himself, he chose to help those in need.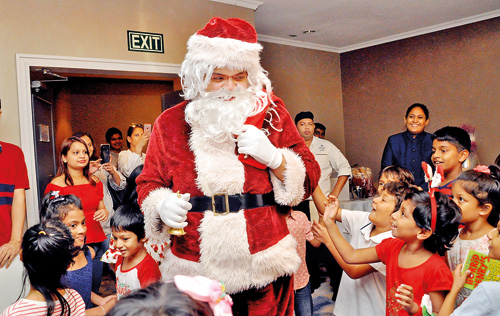 Perhaps one of the most famous stories of his generous heart is also the story of why we customarily hang up stockings for presents at Christmas. During his time, there was an old man who couldn't afford to give his daughters in marriage. As the story goes, Nicholas quietly dropped a bag of gold down the man's chimney which then fell into a stocking that had been put out to dry. With the gold, the man was able to give his first daughter in marriage.
Nicholas proceeded to do the same for the second daughter but got caught by the father on his third attempt to help the family. His secret was out and this had everyone thinking that any secret gift they received was from St. Nicholas (he was later made a saint). Though he passed away so long ago, his memory still lives on through the spirit of giving.
Over the centuries, St. Nicholas has come to be known by many names. We know him as Santa Claus – a jolly white-beared old man in a red suit and black boots.
Most of us have stories of Santa from our childhood and Kavindya Bandara (21) tells us that although she is not a Christian, she and her family would put up a Christmas tree every year. "I used to believe that Santa came all the way to my house, just to give us presents because we've been nice throughout the year," she recalls.
Kavindya would ask her mother how Santa could enter the house when it was locked, and her reply would be that he could squeeze through the window. "I actually believed her and imagined how he would look like for real." Both she and her sister had tried to stay up to catch a glimpse of him. But their mother would then tell them, he doesn't show up when they're awake.
"Our gifts would either be under our pillows or under the tree," she remembers. It was when she stumbled upon the stash of presents at the back of her parents' car that the ten-year- old Kavindya realised that it was her parents who gave them presents every Christmas.
Angelo Peterson (21), recalls his brother trying to surprise his daughter with a gift, claiming it was from Santa. Leaving everyone in the room, his brother had tried to sneak out and leave the gifts by the Christmas tree. In that moment his daughter cried that she wanted to come out and see Santa too. "We can't go out baba, that will scare Santa and since he is old he might have a heart attack, we better let him slowly come and go," his brother had said.
So come the season all children wait to get a glimpse of Santa. Just last Saturday (December 15) we got the chance to visit Santa's workshop at the Hilton Colombo where kids could be Santa's little helper for the day.
The morning began with the children having fun with icing, sprinkles and smarties that left their little chef hats and aprons smeared in pink, green and white. But at the jolly sound of a bell ringing which was followed by a hearty 'Ho ho ho!', they tossed their cookies aside to rush to Santa as he placed their gifts under the tree. Indeed in that moment one could only wish to be a child again.
At the annual Christmas party of the Morning Star school which provides education for children who need extra care and support, Ingrid, the admin of the school tells us, that for these kids who are in real need of love and attention, Santa brings a little joy into their lives.
For twelve years the Harpo's Group has conducted the 'share with a child' project at the school. They have also supported the year end programme by giving gifts for children who have attended school, achieved grades and shown interest, to assist them further their education.
The Santa for the day is played by the security guard at 'Commons,' who has been filling that role for the past ten years simply because he enjoys it and it makes the kids happy. Indeed the children who do not always get the chance to be entertained and enjoy themselves, were delighted when Santa came bearing gifts.
Speaking to those who have been playing Santa for either 10 years or more and the ones who have put on the white beard and red cap for the first time, they all shared the common sentiment of being happy to play Santa just to see the look of delight and amazement in the children's eyes.
So whatever you may choose to call him, be it, Father Christmas, Saint Nicholas or Santa Claus and regardless of whether you may believe in him or not, the magic of St. Nicholas continues to live on through the spirit of giving.
Pix by Priyantha Wickramaarachchi and Janath B. Gunawardena