The Snowball Effect: Offering a different perspective into the making of communities
By Heeran Lalvani
View(s):
Coming together at the Sura Medura International Artist Residency Centre located in Dodanduwa, which featured the 'Snowball Effect' production offered an exceptional production by UZ Arts funded by Creative Scotland , Arts Council England and the Insitu Network.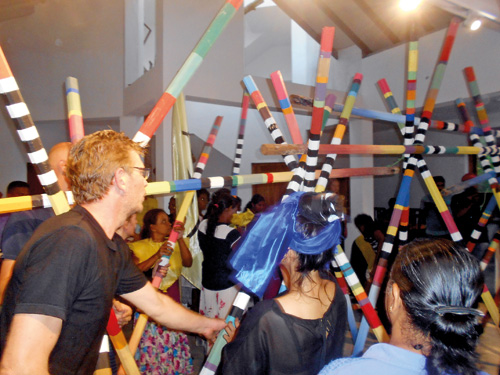 The production which concluded recently brought together theatre, visual art and music taking the audience through an interactive look into the making of communities and borders, giving an experience which helps the audience understand the rationale in how we segregate ourselves in a world that's getting smaller by the day.
From the Director of Sura Medura, Neil Butler, "The Snowball effect is a powerful and exciting production that brings together international and Sri Lankan artists to explore how we live together. Its subject could not be more relevant at a time when communities feel threatened and ideas of truth and fairness are under attack by international forces. As in all Sura Medura projects the production is inspired by Sri Lanka and its people and culture and the themes of cooperation and identity."
Starting off from the entrance onwards we are taken to a place where tiny houses of wood are made in two colours (blue and yellow) and then the audience is divided, separated and then inducted into a tribe. This goes on into where the two tribes see each other but are divided, and out of one tribe, a member decides to journey to the next tribe to make contact. The impact on external pressures is also highlighted and since the audience is a part of this artistic creation it really helps to understand where all this stems from.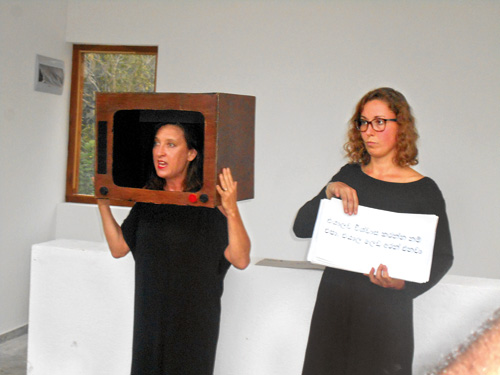 Garnering an audience mixed in with a good amount of the local village folk, the production was carried out simultaneously in English and Sinhala and flew through which such flare that a sense of time was lost. However, throughout the message was also clear even for the locals present.
The entire production brought together this fabulous collaboration of artists from wide and far, the acting, the art and even the music was all created specifically for the production and really comes together to create something as beautiful as "The Snowball effect".
Mr Butler said the group is planning on hosting another residency around February 2019 and hopes to bring about another production of this calibre. The Sura Medura International Artist Residency Centre itself should be fully operational and as such will be able to host artists.
The focus on adding uniquely Sri Lankan elements and exposing all artists to local culture and community is an aspect that Mr Butler said Sura Medura will be looking into.
Directed by Matteo Lafranchi (Italy) with artists and performers: Aneta Fedorova (Czech Republic), Florent Mehmeti (Kosovo), Dave House (UK), Sita Pieraccini (UK), Zephyr Liddell (UK), Tim Hinam (France), Helen Statman (UK), Trevor Stuart (Australia), Fabrice Deperrois (France) and were joined by Sri Lankan performance artists Arun Welandawe-Prematilleke, Tehani Chitty and Jagath Manuwarna.
We had an eye-opening experience as they combined all the production and the audience lending an experience to remember whilst also clearly and simply laying forward the issues and messages that are intended by the artists. Learn more about Sura Medura at www.suramedura.com