Share a cup of Christmas cheer this season
By Tera Jayewardene
View(s):
Breathing in the aroma of a freshly made cup of piping hot tea is something most Sri Lankans enjoy. Now there's that same Sri Lankan tradition with a Christmas twist to it with the many tea shops around Colombo, unveiling special Christmas teas.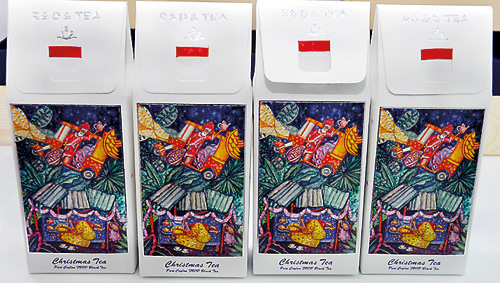 At the newly opened Withered Leaves boutique at Colombo City Centre, the beautiful packaging of their Christmas tea has Santa Claus riding a rickshaw in the sky against the backdrop of a Lankan landscape. The tea is made with cardamom seeds, cut cinnamon and a few drops of maple, vanilla and almond essences which have been added to their FBOP (Flowering broken Orange pekoe) leaves. It costs Rs. 1400 rupees (80 grams) while they also offer a smaller version at Rs. 800 (50 grams).
Withered Leaves is also at the Old Dutch Hospital in Galle.
"The signature Christmas Tea blends developed by Tea Tang were launched for the first time in 2014, as 'Christmas Cheer' and 'Rudolph's Irish Delight'. Since 2014, the two assortments were presented in Tea Tang's own silver metal canisters, retaining the freshness of teas and other ingredients, throughout the season and all the year," says Charit Tissera, Managing Director of Tea Tang. Both boxes are Rs. 980 and contain 75 grams of tea. Tea Tang has their shops in Liberty Plaza, Galle Face Court II and at Thummulla.
" 'Christmas Cheer' features tangy Ceylon black tea flavoured with warm cinnamon and pungent cloves, offering a fresh and spicy aroma, a balanced tangy flavour and slightly sweet finish. This signature blend would bring warmth to your holiday cheer while 'Rudolph's Irish Delight' is a colourful festive blend of Ceylon black tea with orange peel, pink cornflower, safflower, green stevia, clove and flavours of Bailey's Irish Cream and rum. This signature blend is an ideal after-dinner cup to compliment your seasonal meal, and will tantalise your taste buds," Charit says.
Infused with cinnamon, apple pieces, hibiscus, safflower, cornflower petals, rosehip, almond pieces, and cinnamon and almond flavour, the Zesta Christmas Tea can be a great seasonal gift for tea connoisseurs. The tea is available at Zesta's Liberty Plaza boutique at Rs. 900 for 50 grams. "Zesta introduces exquisite Christmas tea for the festive season made with the premium black tea, enriched with dried fruits, selected seasonal spices and flavours. This tea has a distinctive wintery flavour combined with a beautiful seasonal aroma. Its cheerful after taste will keep you in a festive mood all day," says Kasun Rathnasuriya, Manager of Zesta Retail Operations.
So if you are still rushing around for Christmas gifts the tea options are plenty.