A dedicated store for anime and manga fans
View(s):

Anime fans no longer have to order online, go abroad or wait for a convention to get their anime merchandise. With shelves decked with rare collectables that have anime fans all agog, Sri Lanka's first dedicated store for anime and manga merchandise opened on December 15. Yamato One is on the 5th floor of the newly opened Jana Jaya City at Rajagiriya, open from 11 a.m. to 6.30 p.m.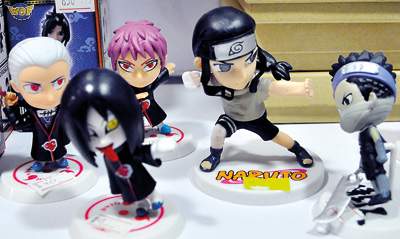 Yamato One has a range of action figures – the latest and very rare pieces from brands including Banpresto, Bandai, and MegaHouse. Some of the interesting collectibles are the Ichiban Kuji (sure win lottery) prizes which are not possible to purchase off the shelf. Naruto, One Piece, and Dragon Ball fans have a vast variety to choose from, even Bishoujo – female character figures. Other anime related merchandise, keychains, wallets and even mousepads are also available.
Clinton de Kretser started Yamato One with the support of his wife Tami. They were introduced to anime through their children who wanted to buy the merchandise whenever they visited Japan. Anime was totally alien to Clinton but slowly he started to realise that there is no age or gender associated with it and that it can be enjoyed by all.
Clinton wanted to start something in Sri Lanka that was fun and entertaining for everyone in the family. He believes that Sri Lanka needs some entertainment that is new and never seen before, especially for teenagers.
In 2010 Clinton knew that he wanted to do something related to anime, but he had never come across people other than his children and nephew that were interested in anime. Everything changed in 2015, when he decided to take part in the Sri Lanka Cyber Games (SLCG) tournament and noticed that many people were cosplaying anime characters. He knew then that there was in fact a market.
Even though Manga and anime is something alien to most people in Sri Lanka it has been a part of the Japanese culture for 70 years and even tiny kiosks in Japan would stock manga, with CEOs and people from all walks of life being fans.
In 2016 Yamato One had their first stall at Lanka Comic Con. On the first day they sold more than 50% of their stock and by the end of Comic con, 90% of their products had gone. They were too afraid to even attempt to make any profit as they had no idea if the products would even sell. "It was as if I was walking with my eyes closed in the dark,"Clinton says, grateful that it has worked out for him.
"It took almost two and half years of hard work to build Yamato One into the place it is today. We never missed a single event. We made sure to go for every single one of them and be associated in some way, even if our products were not being sold," says Clinton about how he and Tami built their business together.
(T.J.)