The Grand Dame of hotels brings to life your dream wedding
By Ruqyyaha Deane
View(s):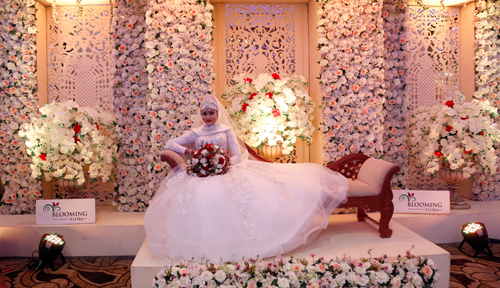 With its seamless blend of old and new that spells romantic allure to everyone who steps over its threshold, the Galle Face Hotel (GFH) is a prime location to bring to life the wedding of your dreams.
Launching their wedding campaign #GFHRealWeddings for the 2019 wedding season, on November 10, the Grand Dame of  hotels, built in 1864, and now refurbished to its former glory, showed us just how they do weddings with elegance and style.
Staging a wedding procession, we were able to witness the Kandyan dancers begin the event with a cultural flourish as they welcomed the 'bride and groom' and guests to a 'poruwa' ceremony in their Grand Ballroom. It was not simply a traditional Buddhist ceremony that was enacted but Christian,  and Muslim ones as well once you entered their Jubilee Ballroom  – the only octagon shaped ballroom in the island.
Each different scene was decorated to reflect the separate customs and religious beliefs such as the marigold garlands (a symbol of auspiciousness) adorning the Hindu altar – thus demonstrating that the hotel was capable of accomodating and celebrating diverse ideals.
Moving towards the acclaimed verandah of the hotel, on the checker-board overlooking the Indian Ocean, the hotel had arranged a breath-taking Western and Moroccan styled mandap as well as a peacock backdrop for wedding pictures if the ocean view didn't suffice.
It was not only the wedding ceremony services they offer that were showcased, but the pre-wedding and post ceremony benefits too. At their restaurant 1864 a Mehendi party too was arranged.
The GFH's wine cellar was deemed to be an ideal location for intimate bridal parties, with the rustic look of the stripped down brick walls and wine bottles in their cases.
The Galle Face Hotel Spa by L'Occitane also offers packages for wedding parties that include massages, a jacuzzi, a sauna and more to enjoy and indulge in. The crème de la crème (for car enthusiasts especially) has to be when the 'just married' couple leaves their reception in one of the classic cars Galle Face Hotel offers as part of their package. To match the interiors of the hotel's colonial architecture, the cars the couple gets to leave in are a fabulous bonus (think restored 1940's era Cadillac!).
For more information on the wedding packages available at Galle Face Hotel, please email weddings@gallefacehotel.net