Waiting with bated breath as items fall under the hammer
By Royston Ellis
View(s):
"I can sell anything, lock, stock and barrel," auctioneer Navinda Samerawickreme told me when I approached him about selling the contents of my bungalow. That appealed to me as I happened to have a miniature malt whisky barrel (long emptied) that I was about to chuck away.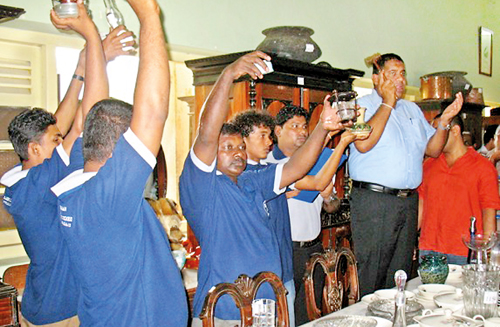 It may not be a catchy name but the Auction House of Schokman and Samerawickreme Ltd has caught the attention of those who collect or sell anything in Sri Lanka. Nothing is too small or too big to sell for the two dynamic brothers, Navinda and Anuja Samerawickreme, who now run the firm.
I first encountered Navinda and his brother when they were energetically selling discarded furniture and fittings from the Colombo Hilton in the hotel's car park. Their technique impressed me as they seemed to convey that every lot was something a buyer simply must have. This spurred competition between bidders and resulted in excitement that even had people bidding for items they couldn't see.
I've bought and sold several things during the past 20 years at their auctions, whether held in their home town of Kandy, in inland industrial estates, in bungalow "sun downer" auctions, in hotels in the south and in their flagship sale room in Colombo. Their auctions are always well conducted, fair and fun.
The company was founded 126 years ago when the brothers' grandfather, Edwin de Alwis Samerawickreme, started it with Mr. Schokman, a Burgher planter from Hatton. Schokman was already holding Sunday sales of the household contents of colonials returning "home." The next generation of Lloyd, Derrick, Gwen, Shirley and Anuja Samerawickreme expanded the business and now, Shirley's sons,Navinda and Anuja, are steering it through the 21st century. It is the only auction house in South East Asia to possess the ISO 9001:2008 System certificate for Auctioning, Valuing and Real Estate brokering.
I studied the brothers' technique and realised they were completely genuine, not making up bids to raise the price, and quite prepared to withdraw a lot if it wasn't attracting positive bidding. They had a technique that embraced eager bidders. I noticed that people who came with money to buy and were out-bid, stayed on to the end, anxious to buy something so as not to go home empty handed.
The organisation of their auctions is impressive. A team of caring and courteous, uniformed assistants patrol every auction, making sure bidders are recognised, and collecting 10% of the winning bid in cash from bidders as soon as a lot is sold. Items have to be collected during the two days following the auction, upon payment of the bid price in full.
Bidding is well organised. On payment of an entrance fee a card with a number is issued to every potential bidder registering their name and address. The bidder simply has to raise the card or a hand to make a bid. Woe betide bidders who hesitate, as once a lot is sold, that's it. There is no second chance.
Over the years I acquired at their auctions a remarkable collection of antique furniture and knickknacks that admirably fitted in my century-old bungalow. I learned that to be a successful bidder, it is best to arrive at an auction early, before the crowd, so there is not much competition. The same applies to staying on to the end of an auction when most people have left and bargains can sometimes be had.
Occasionally I put a few items I collected from the UK, such as antique maps and prints of Ceylon, on sale myself and was gratified by the price Navinda and Anuja got for them.So when I decided to sell my bungalow to move to a smaller place, I approached the company to see if they would handle the sale of effects for me. Hence Navinda's enthusiastic response about being able to sell anything. And he did.
The event began a week before when a bright blue Schokman and Samerawickreme Ltd. removal van arrived at my bungalow with a team who quickly set about cataloguing, valuing and packing everything under the direction of Navinda and Anuja. That took two days and the items filled two vans. A day later they sent me a list of the lots with the reserve prices I had requested. Many of the items had no reserve, something which worried me in case they sold for less than their value.
The auction was held at the company's auction and sales facility at 63 Isipathana Mawatha, Colombo 5. This is a spacious warehouse with an outside area at the back, and that's where the auction began on a Friday afternoon with what I would call "industrial" lots – those items of more interest to dealers than collectors. On Saturday and Sunday the more intriguing items were sold (without a lunch break) throughout the two days.
To help buyers who were planning to bid on a particular item, the warehouse was zoned and the approximate times of the auctioning of lots in each zone was displayed on a notice board. Nevertheless, many potential bidders stayed the whole day, as did I because the auctioneers requested me to be there all the time in case there was a query about a lot.
The only time there was a question was when Navinda asked me to define a particularly intriguing small table and I was happy to tell him it was "art deco". I had about 170 lots in the auction and these were mixed up with items from other collectors as well as furniture and office equipment from embassies. While some larger furniture items did not attract many bids, the smaller items of Ceylon memorabilia sold well.
As my lots fell under the hammer, I watched with bated breath wondering whether people would find them worth buying. To my amazement many items sold for more than I expected thanks to the skill of the two auctioneers who managed to add humour to the occasion with some witty asides.
The atmosphere at the auction was relaxed; while there was competition between bidders it was affable and strangers were soon talking to one another about the lots, happy at the bargains they had secured or amazed at high prices other people were prepared to pay.
Unlike auctions in the UK, there is no buyer's premium so the price you bid is the price you pay, while the auctioneers charge the seller an agreed commission. For both buyer and seller, Schokman and Samerawickeme Ltd provide a transparent, efficient and exciting way to buy and sell. I'm happy to know that pieces I cherished for more than three decades have found good homes.
Navinda told me, "We treasure the trust placed in us. Our unwavering commitment is to deliver quality and value to our customers." I'll bid on that.
Schokman&Samerawickreme, 63 IsipathanaMawatha, Colombo 5; www.sandslanka.com