Pork barreling and horse trading
View(s):

There is an intriguing Serbian phrase podela kolača that I learned from one of my Serbian friends. Literally it means "distributing the cake" – but in colloquial parlance it refers to the post-electoral distribution of state-funded positions for the loyal members of the winning party.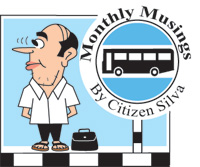 Cutting the proverbial cake or distributing large pieces – be it the plums and perks of office or the spoils and plunder of war — is not a custom confined to Serbia. It happens all over the world. Whether it was a ruler like Alexander the Great distributing governorships of the lands he conquered to the generals who helped him or presidents and prime ministers in our own country distributing the plums of office to those who helped them to con us gullible voters into electing them to office, this is how leaders look after their supporters and pandankarayas.
Receiving rewards for helping the representative of one's own party to get elected – a phenomenon sometimes referred to as 'pork barreling' — is one thing. Most politicians once they get elected and manage to get themselves appointed as ministers tend to flood the government departments they control with chit-carrying support-kaarayas. Whether these chit-carriers sent by the ministers have the requisite qualifications for the jobs they are sent to fill does not really matter. After all, the ministers themselves often lack reasonable educational qualifications! What matters in this democratic process is that the people who fought for you and voted for you have to be looked after by you. As long as you control the barrel of pork, you are expected to lavishly serve pork to your slaves and supporters.
But it is another matter when political leaders resort to horse trading – using unscrupulous methods to lure members from another party to join them and allow them to put together the majority required to form a government.
As an interesting article in the 12th March 2017 edition of India Today ('Goa power tussle: What is horse-trading?') defined the term: Horse Trading is what happens "when a political party tries to bring in members from the opposition party in order to gain a majority in the assembly — and resorts to unapproved techniques in doing so. The said party may offer ministerial perks and financial benefits to lure opposing members."
After the votes were counted in India's 2017 Goa state election, the Congress Party was shown to have won 17 seats while the BJP had won 13. Neither party had an outright majority to form government. However within a week, the BJP claimed that it had the support of two independents and two minor parties, thus controlling 21 seats – enough to make up a majority in the 40 seat assembly and get its leader Manohar Parikkar elected as Chief Minister.
Digvijaya Singh, Goa's Congress party general secretary, claimed: "The BJP has been involved in horse-trading — promising money, ministries, posts in government corporations and SUVs to members of the assembly in order to get their support." Rahul Gandhi even accused the rival BJP of "stealing our mandate" and "buying" members of the assembly.
It is quite common for such offers of plum ministerial positions, often coupled with indirect or direct monetary gains, to turn the tide in Indian politics.
A similar situation to what happened last year in Goa occurred last May in another Indian state election – in Karnataka. After a hard fought battle neither the Congress Party nor the BJP had won enough seats to govern outright. The Congress Party (realising that the BJP needed to persuade just eight of Congress Party members to defect and join them) decided to lock up its newly elected legislators so that they could not be contacted by the opposition party until the day appointed for the legislative assembly to convene!
So the Congress Party and its small regional ally packed off 40 of their MPs to the five-star Eagleton Resort in Bangalore where they were kept in luxury — beyond the reach of negotiators from the BJP – to prevent them from being bought over!
Milan Vaishnav, director of the south Asia programme at the Carnegie Endowment for International Peace said: "One would expect that party leaders could rely on ideology or party loyalty. In India, however, ideology has been cast to the wind. It's all about money, muscle, stature, proximity, family connections or your caste profile. Ideals are simply never part of the equation."
Indian journalist Mayuk Majumdar observed: "The term Horse Trading, a term that came into use in the early 19th century, owes its origin to the notorious shrewdness of the traders who bought and sold horses. Used in the context of Indian politics, however, it implies that politicians have reached an understanding after promises of money, ministries and other such things have been made."
As this momentous month of November begins in our own nation, a land that has been influenced so much and in so many ways by our giant neighbour India, I wonder what influenced me to muse this month about pork barreling and horse rrading?