DFCC in come-from-behind 69-67 win over fairfirst
By Lakshman Ranasinghe
Mercantile League Basketball Tournament 2018
View(s):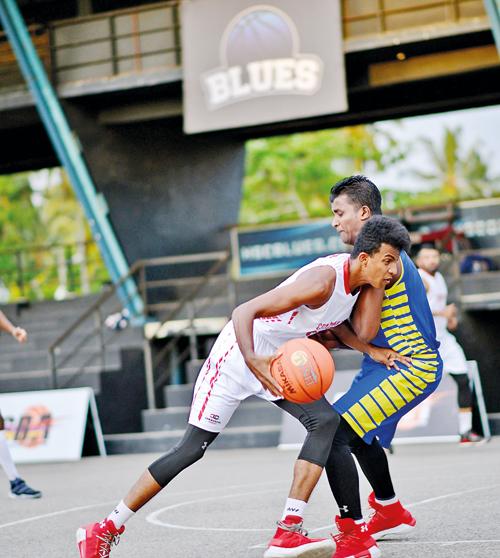 DFCC Bank (DFCC) staged a heroic fightback to snatch victory over fairfirst Insurance (fairfirst) in the Men's 'A' Division of the 28th Mercantile League Basketball Tournament 2018 at the Henry Pedris Basketball Complex last week.
fairfirst was leading 55-49 at the 3rd quarter when the bankers led by Charith Perera bounced back to win the game closely 69-67. In an another match in the same Division, Thevakumar brothers Brent and Clinton led Commercial Credit & Finance (CC&F) to an easy win over Hatton National Bank (HNB).
Moresand Ltd. (Moresand) booked their berth in the semifinals with a victory over Ceylon Tobacco Co. (CTC).
Results from Day 28-39
Men
CC&F- 74 (Brent Thevakumar 29, Clinton Thevakumar 13, Sanjeewa Kulamina
beat HNB- 55 (Anushka Jayalath 15, Chalinda Fernando 9, Amila Nirmal

Player of the Game: Brent Thevakumar (CC&F)
DFCC- 69 (Chrith Perera 18, Dasun Mendis 16, Tharindu Sankalpa 15) beat fairfirst- 67 (Praneeth Udumalagala 19, Shehan Udayanga 13, Isuru Perera 12)
Player of the Game: Charith Perera (DFCC)
MAS Holdings (MASH) 'A'- 69 (Michael Alphonsus 28, Sudesh Ahamed 27, Andrew Alphonsus
beat HNB- 58 (Maheel Egodawatta 13, Anushka Jayalath 12, Rashan Ruwanga

Player of the Game: Michael Alphonsus (MASH 'A')
fairfirst- 76 (Praneeth Udugampala 33, Nichula 22) beat HNB 51 (Anushka Jayalath 15, Kanishka Vishvanath 15)
Player of the Match: Praneeth Udugampala (fairfirst)
DFCC- 71 (Charith Perera 11, Roshan Fernando 11, Dasun Mendis 10) beat MASH 'A'- 50 (Sudesh Ahamed 14, Michael Alphonsus 11, Sadesh Weerkoon 9)
Player of the Game: Charith Perera (DFCC)
Nations Trust Bank (NTB) 'Blacks' 50- (Jude Perera 26, Christy Krishanthan 6, Manjula Jayarathne 6) beat SriLankan Airlines (SriLankan) 'A'- 46 (Andre Jayakody 16, Asitha Waduarachchige 14, Sanjaya Wanasekera

Player of the Game: Jude Perera (NTB Blacks)
Kanrich Finance (Kanrich)- 67 (Mihiraj Rajapakshe 22, Kanishka Wijesinghe 23, Sameera Nishanga 11) beat NTB 'Blacks'- 49 (Jude Perera 17, Manjula Jayarathne 7)
Player of the Game: Mihiraj Rajapakshe (Kanrich)
NTB 'Blacks'- 86 (Christy Krishanthan 28, Manjula Jayarathne
beat John Keells Holdings (JKH)- 68 (Lariru Sovis 18, Angelo Keil 11, Sidath Senanayake 10)
Player of the Game: Christy Krishanthan (NTB 'Blacks')
SriLankan 'A'- 59 (Andre Jayakody 25, Chathun Fernando 14, Sanjaya Wanasekara 12) beat Kanrich- 48 (Kanishka Wijesinghe 18, Mihiraj Rajapakshe 11)
Player of the Game: Andre Jayakody (SriLankan)
MASH 'B'- 62 (Abdul Qadir Haiderally 13, Azeem Ameen 12, Dinith Pathirage 9) beat Virtusa Colombo- 40 (Dilka Sirimanna 17, Dever Spittel 14)
Player of the Game: Abdul Haiderally (MASH 'B')
CDB Finance (CDB)- 75 (Lakshitha Fonseka 25, Kanchana Gunasekera 18, Supun Lakmal 12) beat Virtusa- 36 (Denver Spittel

Player of the Game: Lakshitha Fonseka (CDB)
David Pieris Group (DPG)- 68 (Thanushka Wanigarathna 20, Nalaka Kumarasinghe 15, Jagath Kulathunga 12) beat Softlogic Holdings (Softlogic)- 60 (Susantha Kumara 21, Damith Premawardena 14, Chamara Udayanga 12)
Player of the Game: Thanushka Wanigarathna (DPG)
CDB- 67 (Lakshitha Fonseka 18, Kanchana Gunasekera 12, Supun Lakmal 10) beat MASH 'B' 42 (Chandika Ariyarathne 16, Nadeera Kosala 7)
Player of the Game: Lakshitha Fonseka (CDB)
DPG- 73 (Thanushka Wanigarathna 19, Jagath Kulathung 17, Nalaka Kumarasinghe 11) beat Commercial Bank (ComBank)- 50 (Kushan Perera 16, Kaveen Pathiraja 11, Jonathan Arumugam 9)
Player of the Game: Thanushka Wanigarathna (DPG)
Aitken Spence- 52 (Rashmika Lawrence 29, Shehan Malik 14) beat SriLankan 'B'- 45 (Don Ramanayake 22, Ramasamy Thanushan 12)
Player of the Game: Rashmika Lawrence (Aitken Spence)
Hayleys Group (Hayleys)- 86 (Pubudu Perera 24, Shelan Fernando 13, Rakitha De Silva 11) beat Allianz Insurance (Allianz)- 46 (Shenon Cabal 13, Manula De Zoysa 10, Manishka Perera

Player of the Game: Pubudu Perera (Hayleys)
IFS R&D International (IFS)- 44 (Nandun Withanachchi 22, Bhathiya Wasala 16, Danister Ratnasothy 12) beat NTB 'Blues' 36 (Rukshan Ferdinando 12, Dhanushka Fernando

Player of the Game: Nandun Withanachchi (IFS)
SriLankan 'B'- 70 (Shane Croos 22, Don Ramanayake 21, Ramasamy Thanushan 15) beat Amana Takaful (Amana)- 36 (Mansoor Elahie 16, Rushdi Nizam 10, Gayesh Senevirathne 10)
Player of the Game: Shana Croos (SriLankan 'B')
Moresand- 70 (Shajad Mohamed 22, Keshan Gayanga 10, Ajmal Mubarak 14) beat CTC- 37 (Inam Ameen 20, Kanishka Ravindra 10)
Player of the Game: Shajad Mohamed (Moresand)
Hayleys- 45 (Rakitha De Silva 13, Shelan Fernando 12, Nilukthra Dalpethado
beat Dialog Axiata (Dialog) 'B'- 41 (Hiran Perera 11, Roshan Zoysa 11, Ramiz Massaron 9)
Player of the Game: Rakitha De Silva (Hayleys)
Aitken Spence- 67 (Rashmika Lawrence 34, Anuruddha Wickremasinghe 17) beat Abans Group (Abans)- 51 (Madusha Welgama 26, Roy Fritz Royen 10)
Player of the Game: Rashmika Lawrence (Aitken Spence)
Women
HNB- 60 (Anjalee Ekanayake 18, Kumarine Silva 17, Umanga De Zoysa 13) beat NTB- 19 (Niroshini Paiva (0
Player of the Game: Anjalee Ekanayake (HNB)
CC&F- 69 (Imasha Thathsarani 19, Anjalee Peramunugama 17, Prasadi Fonseka 15) beat HNB- 50 (Kumarine Silva 19, Anjalee Ekanayake 12, Umanga De Zoysa 5)
Player of the Game: Imasha Thathsarani (CC&F)
CC&F- 43 (Anjali Peramunagama 13, Prasadi Fonseka 11, Solange Gunawijeya
beat Seylan Bank 40 (Benika Thalagala 16, Kamalene Mills 8, Kanchana Wijesiriwardena

Player of the Game: Anjalee Peramunagama (CC&F)