Tea industry withers as wage war continues
By Sandun Jayawardana and Asiri Fernando
View(s):
No consensus despite fresh round of talks with newly appointed ministers
Trade unions demand basic daily salary be increased from Rs. 500 to Rs. 1000; plantation companies say nothing more than all-inclusive wage hike of Rs. 940 a day with basic salary of Rs. 600

The deadlock continues over talks aimed at resolving the wage crisis in the plantation sector, with trade unions and Regional Plantation Companies (RPCs) failing to reach a consensus despite a fresh round of talks this week with newly appointed ministers.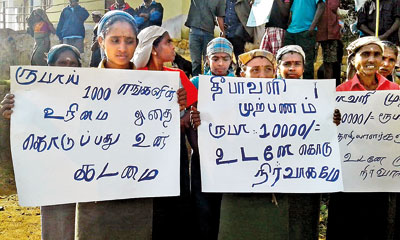 Estate trade unions have been demanding that their basic daily salary be increased from Rs. 500 to Rs. 1000. The companies however, had earlier stated that they would not go beyond their "final offer" of an all-inclusive wage hike of Rs. 940 a day with the basic salary component increased to Rs. 600. The offer includes a 33 per cent increase in the Attendance Incentive up to Rs. 80 and a 20 per cent increase in EPF/ETF up to Rs. 90.
The three unions which have signed the collective agreement with the RPCs, namely the Lanka Jathika Estate Workers Union (LJEWU), Ceylon Workers' Congress (CWC) and the Joint Plantation Trade Union Centre (JPTUC), met representatives of the Planters' Association of Ceylon on Thursday. Arumugam Thondaman, Minister of Hill Country New Villages, Infrastructure and Community Development and Vadivel Suresh, State Minister of Plantation Industries, who were only appointed earlier in the week, were at the discussions.
Administrative Secretary of the LJEWU, Velayudan Rudradeepan told the Sunday Times that representatives of the companies declined to discuss the wage issue at the talks. Unions had also been demanding a Deepavali bonus of Rs.10, 000. The companies however, had agreed to grant Rs.8000. "The plantation companies are sticking to their Rs.940 package and have also refused the Rs.10, 000 Deepavali bonus. As such, we see no reason why we should continue with the discussions any longer," he stressed.
The plantation companies are firm in their offer of the all-inclusive Rs.940 package. Noting that the current system of updating wages every two years is unsustainable, the companies note that ideally, the industry should shift to a productivity-based wage model. In the tea sector, this would mean that Rs. 46 will be paid for every kilo of tea harvested.
Meanwhile, the Tea Factory Owners' Association (TFOA) claimed that a Rs.1000 daily wage hike would be catastrophic for them. Its President Harith Ranasinghe said no one opposed a wage increase, but that there should be a concurrent increase in productivity. He pointed out that workers are paid extra for every kilogram of tea above the norm that they pluck. "Any wage increase must be tied to productivity and attendance," he insisted, pointing out that production suffers when workers don't turn up.
Franklin Gnanamuthu, Secretary General of the TFOA pointed out that 70 percent of the country's tea is produced by tea smallholders. There are currently about 200, 000 smallholders in the country and about 4 million persons are directly or indirectly involved in the industry, he added. Most smallholders hire outside labour as they could not manage on their own, he stressed. If a Rs. 1000 salary hike is granted, the smallholders will have to abide. This would mean that their production cost goes up.
"This results in them charging more for the leaves they sell to our factories. Our tea prices depend on auction prices, but these days, prices are low and teas are not being sold. We are burdened," he lamented.
"Eastate workers must live, not just survive"

The needs of the estate worker has changed over the years and with it his or her wages must change accordingly as it has in other industries, a research organisation has said." The pattern of life of an estate worker has changed in the last 50-60 years" said P. Muthulingam, executive director of the Institute of Social Development (ISD) in Kandy.

"The average estate worker wants to educate their children and aspire to have a better life than their predecessors" he added, pointing out that an estate worker wants no less for their children than any other working class parent would want for their offspring. A recent study released by ISD argues for an increase in estate workers' daily wages.

Released in May of 2018, the study analyses the cost of living of an average estate family comprising 4.5 individuals, with an estimated 'living wage' of Rs. 44,711.00 a month.

The findings of the study indicates that " improving their lifestyle up to a basic acceptable and decent living standard demands a daily living wage of LKR 1,108 a worker per day and monthly net cash earning of Rs. 27,707 per month per worker" (ISD, 2018). In comparison the estimated wage which the planters association has put forward is LKR 940 per day. Mr. Muthulingam opined that an estate worker should not be expected to simply 'survive' on a wage, pointing out that there was a difference between surviving and living. He pointed out that while accommodation facilities are provided for many in the sector by the plantation management, many estate workers had to pay their own electricity bills and other utility costs. He called for government intervention to address the estate workers wage concerns if the plantation companies failed to do so.