Parliament's new seating arrangements not finalised yet
View(s):

A final decision on the seating arrangement for the first sitting date of the new session of Parliament is yet to be taken, but Ranil Wickremesinghe is likely to be allocated the seat which was previously occupied by Mahinda Rajapaksa in the opposition benches of the House. Mr. Rajapaksa is to be allocated the seat of Prime Minister in Parliament after Speaker Karu Jayasuirya decided to recognise him on the grounds that a gazette notification has been issued by the President naming him to the post of premier.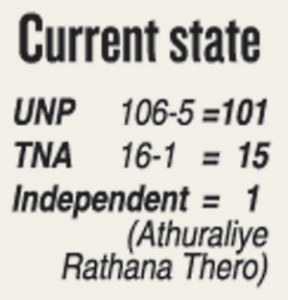 TNA leader R. Sampanthan will continue in the post of Leader of the Opposition until Parliament decides begins, Parliament sources said. The seating for the newly appointed ministers will be only finalised after a date is set for the next Parliament sitting, they said. Meanwhile, a motion of no-confidence against Mahinda Rajapaksa continuing as the Prime Minister was handed over to the Secretary General of Parliament on Friday. It was signed by UNF Leader of the House, Lakshman Kiriella.
The motion states that in the absence of a vacancy in the post of Prime Minister, President Sirisena has appointed another person to the post by way of a gazette notification but these are null and void as this move is unconstitutional. The motion states, "The House has no confidence in the purported Prime Minister Mahinda Rajapaksa and the purported government appointed on or after the 26th of October.
According to Parliamentary officials, a debate, followed by a vote on the no-confidence motion, will be given priority in the business of the House.