Concessions, price reductions and promises to reduce the cost of living
View(s):

With the political upheaval of last week came a string of concessions and promises to reduce the cost of living burden on the average Sri Lankan. Mahinda Rajapaksa as the newly 'appointed' Finance and Economic Affairs Minister said the infamous "fuel price formula" would be scrapped.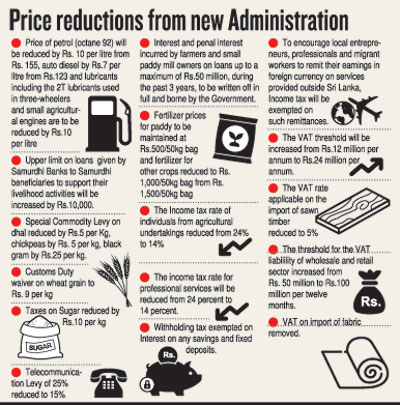 As such, the Ministry has reduced petrol 92 octane by Rs 10 and auto diesel by Rs.7 from midnight Wednesday. The Indian Oil Company (IOC) followed with price reductions of Rs.2 for 92 octane petrol and Rs. 11 for Lanka Auto Diesel. The threewheeler hire charge was also reduced by Rs. 5 for the first kilometre last week.
The administration reduced taxes on sugar by Rs 10 a kilo and the telecommunication levy by 10%. There are plans to write off some of the interest and penal interest incurred by some farmers. The special commodity levy which applied to dhal and chickpeas has been reduced by Rs.5. A reduction of the price of specific fertilizers may come into effect soon. The administration also moved to bring down the VAT rate on selected products.
In a move to encourage local entrepreneurs, professionals and migrant workers remit their earnings in foreign currency, plans are underway to exempt foreign savings and fixed deposits from taxes. Sri Lanka's forex reserves had fallen by US $ 1.4 billion by end September 2018.