Rajitha's 'Hithala Gaththu Theeranayak' to premier at the Wendt
View(s):

Rajitha Dissanayake will premiere his newest play 'Hithala Gaththu Theeranayak', (A well-made decision) at the Lionel Wendt Theatre on November 9 and 10 at 7.00 pm.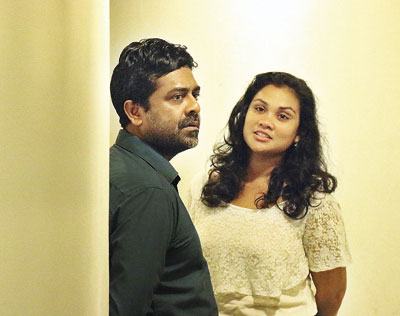 In the last two decades Rajitha has earned a reputation for bringing entertaining and thought-provoking plays to local audiences, such as 'Weeraya Merila', 'Sihina Horu Arang', 'Apahu Harenna Ba', 'Aadara Wasthuwa' and 'Nethuwa Bari Minhek'. These, along with many other productions, have won both critical and popular support throughout the country. 'Hithala Gaththu Theeranayak' – which seeks to explore the consequences of decisions taken in the name of love – promises to be yet another high-quality dramatic venture, like its predecessors.
Since the 1990s Rajitha's plays have won numerous top awards for performance, script, direction and design at multiple State Drama Festivals. His plays have also toured overseas, with noteworthy performances in India, Europe and Egypt.
'Hithala Gaththu Theeranayak' will feature some of Sri Lanka's most talented and experienced performers, comprising Shyam Fernando, Dharmapriya Dias, Samadhi Laksiri, Tharuni Ashangsa and Anuradha Mallawarachchi. Music for the play is composed by Kapila Poogalarachchi, and the set is designed by Anuradha Mallawarachchi. The costume designer is Nalin Lusena while make-up will be handled by Priyantha Dissanayake. Ranga Samarakoon and Anuradha Mallawarachchi will team up for the lighting design, and the stage management will be carried out by Vijith Nuwan.
Tickets for the show will be available at the Lionel Wendt from 25 October onwards, and are priced at LKR 2000, 1500, 1000, 750, and 500 (balcony).