Lanka's first 'dolby atmos'multiplex cinema at CCC
View(s):

With the opening of Colombo City Centre, Scope Cinemas launched their first multiplex cinema complex in Sri Lanka last month.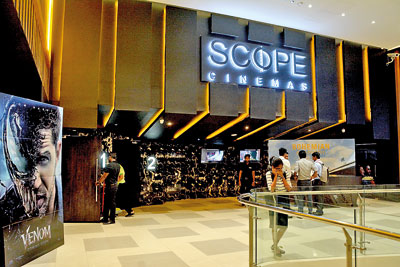 This is the first and largest six screen multiplex provides a world class cinematic experience for local cinemagoers. Equipped with state-of-the-art technology and facilities, the multiplex opened its doors to movie buffs recently.
The multiplex features 700 seats divided between six screens with 4K projection technology and the latest Dolby Atmos surround sound systems, ensuring a state-of-the-art experience – befitting of the international standards that the Colombo City Centre operates on. The scales of the multiplex enables the screening of at least 25 interval-free movies per day and also leverage Scope Cinemas' international partnerships to host exclusive screenings of highly-anticipated movies, giving Sri Lankans the opportunity to enjoy global blockbusters a day before their worldwide premieres.
'We have just completed about five weeks into the new concept and had proven it to be a success said Thushan Rangana Meemanage, the CEO/ Director of Scope Cinema (Pvt) Ltd.
Speaking to TV Times, Meemanage stated that Scope Cinema Complex at CCC attracts more people to the cinemas than Liberty Scope and Savoy together.
'This is mainly because of the facilities we offer at the complex, cutting-edge technology and the time factor. We do not run our show times in an orthodox manner. We have a show time in every 50 minutes. We do not stick to the standard 1.30 am, 1.30 pm, 4.30 pm and 7 pm show times. Therefore if a film enthusiast comes to our cinema, they will not have to wait to watch a movie for a long span. They can watch their favourite movie from seven different contents. The films vary in genres too so anyone who is into films will be able to find something which goes with their tastes' explained Thushan Meemanage.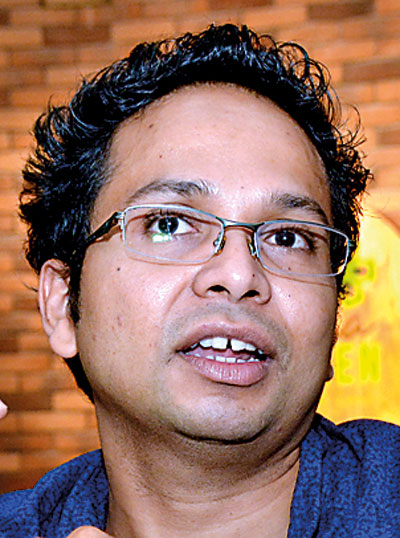 The latest in cutting-edge technology like Dolby Atmos Surround Sound and 4K projection has been introduced to Scope Cinema at CCC.
'This venue has become very popular with film goers. It is actually double the footfall of Savoy and Liberty together. Though we have not done much marketing and publicity, people come purely based on word of mouth to enjoy this new experience. We offer them with the luxury at an affordable price' he added.
Scope Cinema at CCC has speakers everywhere except on the floor. Therefore when film goers watch a movie, they feel like they are in it with the characters. It offers stadium type seating for the very first time in Sri Lanka. Therefore even a short person who is seated behind a tall person should be able to view the film without any disturbances.
The multiplex is not limited to foreign content alone. If a quality Sinhala production comes to theatres the team is willing to let it have a run in their theaters.
"We actually unveiled the cinema with 'Kolamba Sanniya'. If a producer comes with a good product, our doors are always open for them irrespective of the fact whether they are amateurs or seasoned filmmakers' he said adding that 'Udumbara', 'Thala', 'Tsunami', '1970 Love story' and 'Gindari 3' are scheduled to be screened on the Scope Cinema screens in the future.
'The only parameter we look into is whether the movie will be accepted by the public' Meemanage said.
He says that they are hoping to expand the concept to other areas in the country gradually. He adds that the National Film Corporation's decision to take over film distribution will have an adverse effect on the industry.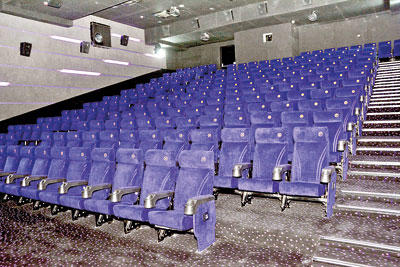 'We offer 'peak and off peak hour' rates for our film goers. There are many youngsters who love to watch a good film at a quality cinema but do not have much money. We give about 40 percent discount for the shows screened during the off peak hours' he added.
Cinemas for films will be selected according to the show times and preference. The cinema halls offer around 750 seats in the entire multiplex with 220 seats in the Dolby Atmos theatre. The VIP cinema is equipped with 24 seats. Around 30 shows will be screened everyday. The cinema also houses facilities for the differently abled. They screen their movies without intervals. They have peak hour and off peak hours for shows.
Pix by Nissanka Meegoda