Indian styles at Design Collective
By Tera Jayewardene
View(s):
The Design Collective presented two exquisite collections by Indian designers Khyati Pande and Sangeeta Boochra at their trendy store down Stratford Avenue, between 3 p.m. and 6 p.m. on October 28.
Founded by two friends Binu Wickramasinghe and Shahili Gomes, both passionate about fashion, design and art, the Design Collective looks to promote local designers as well as those from other countries in the South Asian region. Having worked in the Delhi and London fashion industries, Binu was keen to create something similar in Sri Lanka. Shahili, a graduate of the Imperial Business School believed the Design Collective could be a platform for South Asian designers to showcase their talents.
One aspect that makes the Design Collective a unique retail space is their interactive shared work area, where designers and customers can exchange ideas. This was seen at the collection viewing where customers were able to meet and talk to the designers freely.
The ITR brand by Khyati Pande embraces minimalism and echoes the notion of creating designs that fall loosely on the body. Designed in a manner that they can be worn from 9 a.m. to 9 p.m. each piece had been elegantly hand crafted with pastel hues dominant as well as sheer elements and floral embeddings. The collection was classically Indian with a modern twist to it, perfectly suitable for the Sri Lankan lifestyle.
An interesting aspect of the collection was the contrasting patterns – checks and floral patterns, combined in a way that didn't clash but rather gave the pieces a depth to it.
A fashion graduate of NIFT Mumbai as well as a Design graduate from NID Ahmedabad, Khyati's aim through ITR is to promote, preserve and maximise the use of traditional handicrafts, as well as create a purely handmade line. The ITR collection was also showcased at the Mercedes-Benz Fashion Week Sri Lanka on October 27.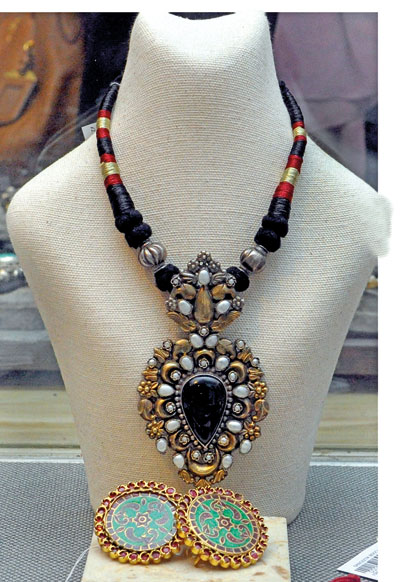 Sangeeta Boochra's collection presented at the Design Collective was striking jewellery, primarily made of pure silver in Rajasthan. As she rarely makes two of the same, her collection curated through FIZA by Mariam Saleem was made up of intricately designed one-of-a-kind pieces that drew admiration from guests that evening.
Mariam had interestingly stumbled on the brand while shopping in Delhi, coming across the tiny shop where she met Abhineet Boochra, Sangeeta's son. Since then she has been bringing Sangeeta's jewellery down to Sri Lanka.