High profile bloggers tour Sri Lanka
View(s):

A group of high profile internationally renowned travel bloggers arrived in Colombo last week for a special ten-day tour in less known destinations throughout the island on the invitation of Sri Lanka Tourism Promotions Bureau (SLTPB).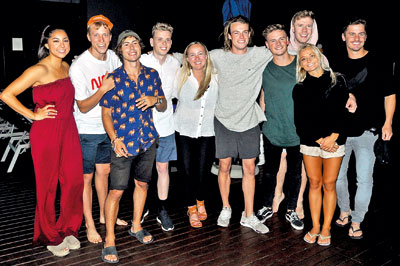 This was the latest initiative by SLTPB to promote Lanka as the best tourist destination in Asia.
The selected bloggers are from Australia, Norway, USA, Canada, New Zealand and Philippines. The focused area of promotion comprises some lesser known spots, nature, adventure, lifestyle and active tourism products.
The combined followership of this blogger group comes about 3.3 Million from around world covering above given countries.
These internationally renowned travel bloggers and vloggers representing six leading countries will be taken on a ten-day tour to the selected destinations for them to get familiarise with the places and to give due promotion through their social media platforms like the Facebook, Instagram, You Tube etc.
SLTPB officials led by its Chairman Dehan Seneviratne welcomed the foreign visitors recently at a special dinner hosted by the Hotel Movenpick at its rooftop bar and restaurant prior to the commencement of the countrywide tour.
The SLTPB Chairman addressing the dinner gathering said that they were glad to have welcomed a group of top ranking travel bloggers /vloggers in Sri Lanka to promote its lesser known destinations around the world, which in turn would attract more and more foreign tourists that will ultimately boost the country's tourism sector as well as the economy.
SLTPB Director Public Relations Dushan Wickramasuriya said the 11 travel writers have participated at the programme representing the countries of Australia, Norway, USA, Canada, NZ and Philippines.
He said the main focus area of promotion of this programme is lesser known, nature, adventure, lifestyle and active tourism products. He said even Srio Lankans were not familiar with these spots as those were still hardly visited by many.
The 10-day programme has been organised from October 18th to 28th to cover the areas of Colombo City, Anuradhapura (via Wilpattu), Dambulla (Habarana), Riverston, Kandy /Hanthana, Ella (via Dahatawanguwa), Wellawaya, Belihuloya and Negombo.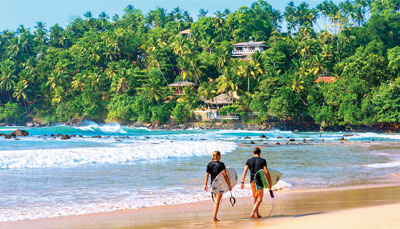 SLTPB Assistant Director PR, Chaminda Munasinghe said the combined followership of this blogger group comes about 3.3 million from around the world covering above given countries.
'We strongly believe that this will benefit the Sri Lankan Tourism industry to gain extended exposure within popular social media platforms as an attractive holiday destination' he said.
Manager PR and Communications Movenpick Hotel Nadia Issadeen said that they were glad to be part of this event as it will get great exposure on the country's tourism industry and its lesser known destinations.
The 11 bloggers /vloggers are Louie Patrice Averilla Abalon (Philippines), Mark Harrison and Valentyn Syenin (Canada), Jorden Tually and Joshua Lynott (Australia), Karoline Fosse, Kim Soerensen and Martin Solhaugen (Norway), Craig Campbell and Sarah Dartnall (NZ) and Jeanine Amapola (USA).