'Bohemian Rhapsody' and Queen to take Colombo by storm
By Sanath Weerasuriya
View(s):
The latest film 'Bohemian Rhapsody', the life long story of singer late Freddie Mercury and his rock outfit Queen, will take Colombo by storm from Friday, 9th November. The movie will hit the creen at the Colombo City Centre Scope Cinemas and at the Liberty Cinema, Kollupitiya.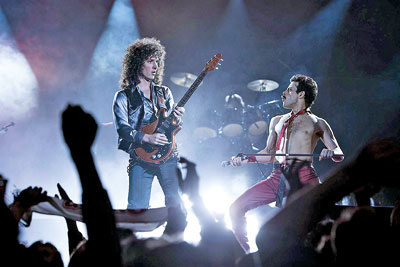 'Bohemian Rhapsody' is a 2018 biographical film about the British rock band Queen named after their world famous hit 'Bohemian Rhapsody', focusing on lead singer Freddie Mercury's life and leading up to Queen's Live Aid performance at Wembley Stadium in 1985.
Directed by Bryan Singer, it is written by Anthony McCarten, produced by Graham King and former Queen Manager Jim Beach and stars Rami Malek as Fred Mercury, with Lucy Boynton as Mary Austin, Gwilym Lee as Brian May (lead guitar and vocals), Ben Hardy as Roger Taylor (drums, guitar, keyboards, vocals), Joseph Mazzello as late John Deacon (bass, guitar, keyboards ), Aidan Gillen as John Reid, Tom Hollander as Jim Beach, Allen Leech as Paul Prenter and Mike Myers as Ray Foster in supporting roles. The original Queen members Brian May and Roger Taylor served as creative consultants of the film.
The film is an American-British joint venture produced by 20th Century Fox, New Regency, GK Films and Queen Films, with Fox serving as distributor.
Bohemian Rhapsody was released in the United Kingdom on October 24, 2018 and is scheduled to be in the United States on November 2, 2018.
The film received a mixed critical reception; its direction and historical inaccuracies were criticized, but Malek's performance as Mercury received unanimous praise. The music is directed by John Ottman and Story by Anthony McCarten and Peter Morgan.
The film 'Bohemian Rhapsody' is a foot-stomping celebration of Queen, their music and their extraordinary lead singer Freddie Mercury. Freddie defied stereotypes and shattered convention to become one of the most beloved entertainers on the planet.
The film traces the meteoric rise of the band through their iconic songs – 'Bohemian Rhapsody', 'We Will Rock You', 'Crazy little thing called love', 'Another One Bites the Dust', 'Killer Queen', 'Radio Ga Ga', 'I want to break free', 'Somebody to love', 'Don't stop me now', 'Fat bottom girl', ' Kind of Magic', 'Bicycle' and 'We Are the Champions' and revolutionary sound.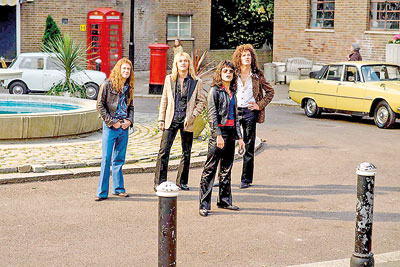 They reach unparalleled success, but in an unexpected turn Freddie, surrounded by darker influences, shuns Queen in pursuit of his solo career. Having suffered greatly without the collaboration of Queen, Freddie manages to reunite with his band mates just in time for Live Aid. While bravely facing a recent AIDS diagnosis, Freddie leads the band in one of the greatest performances in the history of rock music. Queen cements a legacy that continues to inspire outsiders, dreamers and music lovers to this day.
Farrokh Bulsara professionally known as Freddie Mercury, all over world passed away on 24th November 1991. John Richard Deacon, the bassist of Queen died in 1997 leaving Brian May and Roger Taylor to run the band.
Following the death of Mercury in 1991, Queen were put on hiatus for several years but were eventually reconvened by May and Taylor for further performances featuring other vocalists