Disrupted by Digital Disruption?
View(s):
We have discussed how digital technologies are disrupting the way the world works, and creating arguably better outcomes for human beings. The best living examples among many such instances are the taxi apps, like Uber and Pickme.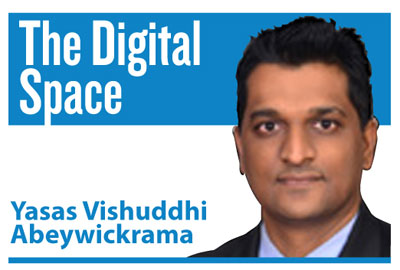 Ten years ago, we used to hail, call or go to a taxi park and get onto a taxi or a tuk tuk. While it had its convenience, it also presented inconvenience. The driver is at one spot, the traveller is at another. Apps created the linkage. Now we see where the taxis are on the map, hail technologically to the closest taxi, which comes to you and you get onto it, the trip is tracked on map, and digitally billed avoiding any unwanted unpleasant negotiations with drivers. What an amazing result? Convenient. Easy.
Matches the demand with supply. Direct. Simple.
Of course, it's a business. App is a business for Pickme and Uber, they have become the technological mediator or the platform. For which they need a financial contribution, which is charged by the drivers in terms of commission. A service has a value. And this is the value the taxi drivers have to pay the App business, for connecting them conveniently with the travellers, for not keeping them idling at parks, for doing the price calculations technologically, and basically for creating a productive and usable platform.
This is Digital Disruption at its best.
Airbnb does something similar in the hotel booking space. Million Spaces, a product from Sri Lanka is developing something similar in the venue booking space. This is what Kapruka, MyDeal, Takas, Daraz and others are doing in the eCommerce space, disrupting the way people buy things. FriMi, iPay, Payhere and quite a few other payment platforms are coming up, easing out payment processes for people and businesses. ParkMeApp and Park and Pay are trying to revolutionise the parking business by taking things online. Many examples from abroad and here can be seen and more are developing, and importantly growing, meaning people want these services.
Government services should also go online, introduce digital disruption to really efficentiate the processes and cut through the red tape. This area is still in its early stages in Sri Lanka, but that time will come soon. There are a few examples like the online revenue license service which has proved the point of convenience.
But alas! There are people opposing this!
Some Uber and PickMe drivers staged a protest in Colombo last week over the commission charged by the respective companies from them. The protesting drivers also threatened some Uber and PickMe drivers who operated their vehicles without joining the strike. The protesters said that they were suffering as a result of the high commission charged by the companies, particularly Uber, for each taxi hire.
We don't dispute the claims. But there is no need to protest or damage properties. You can simply go out of the App, and operate as they used to, and see the result.
They will start waiting without business, cumbersome to find the location of the passenger, arguments on fee and other issues. Practically, digital disruption would mean that those who do not move on with the technology will be wiped off the market.
I am all for seeing people being able to raise a voice against a concern. That's a whole mark of a democratic society. But it disturbs me that some of our people still have not got a good grasp of the world where we are living today and where it is heading. When there is potentially a need to negotiate commissions with App companies, threatening the new era as 'App Mafia' is beyond me.
Where have we gone wrong? Is it the education system or is it the culture by nature?
As these attitudes are everywhere, for us to move on and become a successful nation not just digitally but in all aspects of the country – these need to be fixed.
(The writer is the current President of CSSL – Computer Society of SriLanka and can be reached at yvabeywickrama@gmail.com<mailto:yvabeywickrama@gmail.com> ).