Learning the ropes of journalism and encountering memorable personalities
A book by Channa Dolapihilla
View(s):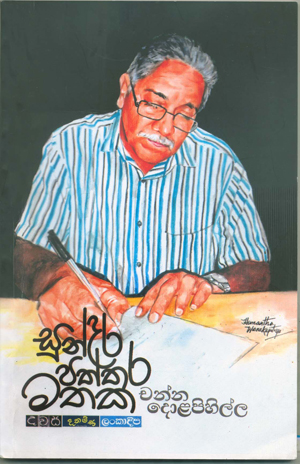 Channa Dolapihilla is no stranger to the world of journalism. He started out at the Dawasa newspaper printed by Independent Newspapers Limited and after its closure, joined the Lankadeepa of Wijeya Newspapers. After a stint there, he also worked at the Dinamina newspaper of the Lake House group. His years spent in newsrooms in three of the leading newspapers in the country have given him many interesting and memorable experiences that he has put together in a book aptly named Sundara Paththara Mathaka.
The book consists of 32 anecdotes about the inevitable ups and downs that journalists experience during their career which not only puts them in the front seat of important events  but also in the company of varied personalities.
Veteran journalist Kotmale Sirisena in his foreword to the book recounts that both were bitten by the "newspaper" bug at an early age which prompted them to seek employment in a newspaper office.
They honed their skills at Dawasa and as Kotmale Sirisena writes, the newspaper bug that bit them early on in life remains till today. "What Channa has written about are our memorable experiences at Dawasa in particular where we leant the ropes of journalism but also encountered some unforgettable personalities."
The book is printed by Godage Printers and priced at Rs.300. It will be available at the Colombo International Book Fair which began this week.