Botanik adds to its gastronomic journey
By Sashini Rodrigo
View(s):
Now is the perfect time to pay a visit to Botanik for both first timers and regulars as they have launched exciting new updates to their bistro and bar menus.
Colombo's dining scene has never been the same since the introduction of the now well known rooftop bar and restaurant, but they are not content to rest on their laurels. Instead, they are constantly rethinking and reshaping their menu to stay as fresh and vibrant as the name suggests.
Sri Lankan-born Michelin star Chef Rishi Naleendra and Executive Sous Chef Viraj Ariyadasa have collaborated on a range of new menu items, keeping with their signature style of contemporary bistro food featuring the freshest high quality ingredients with an emphasis on locally sourced produce.
The menu and portion sizes encourage sharing amongst your table, which is a perfect excuse to try all the new dishes they have to offer.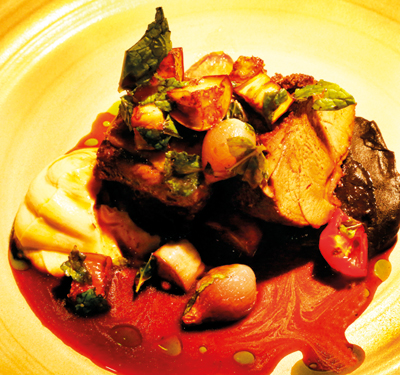 Two standout additions to the Bar menu are the delightfully light and refreshing Cucumber Spritzer off their unique signature cocktail list and the Botanik juice, featuring a refreshing combination of basil, strawberry, black pepper and tonic perfect both by itself and as a mixer.
There are plenty of starters and snacks if you are feeling peckish, including the White Fish Carpaccio with shallots, olive oil and wasabi cream, the Tuna Tartare served with sriracha mayo, and the Crumbed Calamari with a tangy ginger lemongrass curry sauce. The uncomplicated presentation of such fresh and simple ingredients bring out the best that each flavour on the plate has to offer.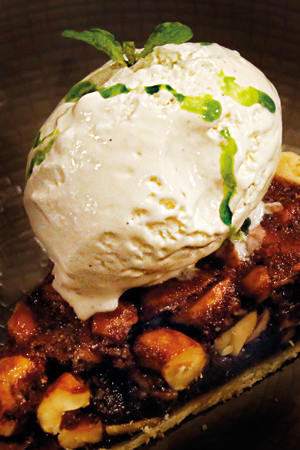 The mains feature sophisticated yet flavour-packed options like the Rib Eye with spiced corn puree, charred corn and scallion sauces, the wonderfully soft Spiced Lamb Shoulder slow-cooked for 12 hours complemented with burnt eggplant, hummus and confit shallots, and the Day Roasted Duck Breast with smoked pumpkin puree, five spiced caramel and mushroom crumble.
Slow-cooked meats coupled with interesting pops of flavour that both complement and transform each bite are a running theme, and each dish is a visual and gastronomic journey.
The desserts are the highlight of the whole affair, featuring delectable new additions like dark chocolate nut pie with treacle, toasted cashew and homemade vanilla bean ice cream and the Botanik Sago Kacang with homemade watalappam ice cream, caramelized almonds and puffed wild rice. The ice creams are creamier than you could possibly imagine, even for the most discerning.
Whether you are in the mood to try something new or dig in to their old favourites, Botanik is the perfect marriage of relaxed ambiance and good food and drinks.