Appreciations
View(s):

We will miss our friend and his gentle ways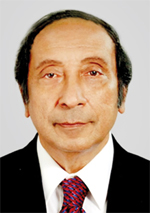 Dr. Hilarian Codippily passed away few weeks ago, following a serious illness. He lived through it with a reasoned position, searching for ways to stall its deadly progress. Only a few of us knew what he was going through. He was very well looked after by his loving wife Sheila and daughters Deepthi and Shyami.
An observant and committed Catholic, he was well prepared to deal with the end of his days. A gentle soul of modesty, he kept his knowledge and abilities always hidden from plain view. He was a gentleman to the core. I never heard him disparage anybody or anything. He did express disappointment once when he went to hear a concert of Sunil Shanta songs when they did not sing his most famous song, "Olu pipila wela lela denawa". He called me that night to say, it was quite alright for me to have missed the concert.
He had a Ph. D in economics from Warwick University and a Master's degree in Mathematics from the University of Ceylon. It is not well-known that Hilary was an accomplished theoretical physicist and mathematician.  He   taught physics at the Colombo University science faculty after his return from Washington, until he fell ill. He loved teaching and was very impressed by the quality of the students he taught there.
I have known Hilary for more than 40 years. I knew him when he worked in the Ministry of  Planning with Professor H.A.de S. Gunasekera, who was the Permanent Secretary. He was very happy to work with this famous economics professor. Their study on village development done at the behest of Prime Minister Sirimavo Bandaranaike was a pioneering and seminal work.
Hilary was a leader among the Sri Lankan community in Washington. He was the President of the Sri Lanka Association there and served the community with complete dedication. His leadership, quiet and well-focused at it was, helped to keep the diverse community in unity, despite the dissension and conflict at home.
Hilary and I worked at the World Bank for over 30 years. He was well respected by his colleagues for his analytical abilities and the officials of the countries he worked in, for his commitment to help them. They always looked forward to his visits. They knew that Hilary would do as much for them as he could. His work in Ethiopia, British Guyana and the Pacific Islands,to name a few, was outstanding. His work on Pacific Islands led to a book which he co-authored with Professor Ron Duncan.
When I led a World Bank economic mission to Ethiopia in 2003 they remembered Hilary who had worked with them, 10 years before. His resolve to help Guyana was legendary. It had a debt to GDP ratio of 800%. He put together a joint team from the World Bank, IMF and the Latin American Development Bank to unwind the debt to normal levels.
I always relied on him to explain questions in physical science that I did not understand. He did so with characteristic patience and generosity. I know that there is a star named after him. This is not a metaphysical but real claim. He would recommend books to read in physics and introduced me to areas in physics that I had never studied formally. A group of us who gets together to discuss interesting topics every month invited Hilary to speak on "Frontiers of Modern Physics". He gave the best prepared lecture that we had heard in that group. What was remarkable was the preparation he had done for it, including three, hand-out notes for us to read in advance. It is rare to find such commitment and dedication, to speak to a small group of non-scientists! But that was Hillary, in his essence.
We will miss our friend and his gentle ways. He has left behind in addition to his loving family, a group of his friends and admirers in four continents. I will miss our monthly lunches in Thalawathugoda where we discussed wide ranging subject matter from news of our former work place, recent books that we need to read and a smidgeon of local politics, where I was the listener.
Dr. Sarath Rajapatirana
 Memories of you will linger in our minds
Dr. Hilarian Codippily
My dear friend Hilarian is no more,
As his immortal soul has gone through Heaven's door,
While his mortal remains lie under ground,
To mother-earth-till thy kingdom come-bound.
His sojourn on planet Earth,
Lasted around 80 years from the time of birth,
During this life span – as a Mathematician, Physicist & Economist-he reached great heights
To bag a World Bank top slot to set the developing world's- financial, economic and development- strategies right.
As an excellent ballroom dancer,
He danced his way into the arms of charming Sheila-his lifelong marriage partner,
And lived happily for 54 years thereafter,
In accordance with the matrimonial vows they took before the church altar.
On the 18th of August 2018, the Earth received an honoured guest,
As Hilarian was laid in peace to rest,
Where in that state he will stay,
And rise on the final Judgement Day.
Goodbye dear friend,
Though your life on earth has come to an end,
Memories of you will linger,
In the minds of those near and dear to you, forever.
A.Pulle
---
Thank you for your part in ours and our part in yours
Viswanath Samarasinha
I am not sure how to deal with the loss of a constant. A constant that you take for granted, a constant you do not take the time to appreciate and a constant that always annoys you.
A constant that people would even say is inconstant. A man who learned one thing, did something different. A man who drifted through life… Leaving a mark and then changing his course and doing something completely different.
To me Viswanath Samarasinha or Vish is a constant waathey (a pain) … and I say this in the most endearing way possible. His intention was to shake things up. Make you rethink your thoughts and lose your concentration and redirect your frustration on him. He sparked a response. Always.
When I met him first… I cannot remember how or when… Maybe through Shalini, his wife, maybe through Sharanka, my husband. I remember thinking that he dressed well. Understated elegance. Neat. Just a little nuance of flamboyance… A spot of colour in pristine white. Well ironed, well-cut shirts. Snazzy ties, often handmade and in silk. He almost never made a mistake… Except when he decided to wear linen pants to the Roy-Tho this year. His fashion non-forward friends did not get that. They still don't. That's another constant …. His fashion-sense.
His next constant, was his loyalty. He was there when you needed him. Never refused.  He would stand by you. Like he stood by Sharanka on the day of our wedding. My husband sheepishly arrived with a hangover that was caused by excessive drinking at his bachelor's party the day before the wedding. Prompted of course by you know who. But, bravely Vish stood there with Nirosh the third of the band of three, placating my wrath and impatience. Taking the blame. Helping his friend – my husband, in every possible way. I cannot remember if Sharanka returned the favour or not. I wish I did.
He would always greet you with a 'Hiiiiiii', a hug and an insult. He would then chuckle shaking his shoulders in rapid yet short movements. Arrrrrgh… It annoyed you for a moment and then you would also chuckle. Then he would find you a seat, ask what you would like to drink and meticulously fix and deliver it to you. It was a constant I had taken for granted. I am still waiting for the greeting, hug, insult and drink.
Obsessively perfect, he needed everything right. Everything a certain way. Bottles in a certain way. Camera equipment to be held, stored, used a certain way. Haiya… for an easy-going guy… neethigodai (loads of rules).
He captured life in his photography. He saw something beautiful in us all and everything around him. His vision for Sri Lanka was one of harmony. Harmony in self, family and friends, in religions and ethnicity and above all, nature. His brilliance was just emerging. His photography dappled with shadow, light and technology was beautiful. This artistry was often awarded and so much so that he was the Brand Ambassador for Nikon. Not an easy feat for someone who began photography as a profession just a few years ago. Frozen in time, it is his photographs that are ultimately his living embodiment and legacy. One after another, those photo stories come alive, living, pulsating and brightening tired souls. His FB page Vish Samarasinha is worth accolades.
His love for Shala, his wife … What can I say? It meant everything. His love for Vanya took your breath away… That is what breaks the heart most. Not to see that love shining for them. Not to see him swooping in from somewhere to grab, hold and hug. Hear him with Shala, see him with his pana. How much he loved hugging Shala. And how often she would scold him and he would laugh… and so would we. But he loved giving them as much as she loved receiving them.
His love for his mom, dad, Thilani akki and Naveen was the same. Teasing and annoying them. Contradicting their every word but, loving them devotedly.Vish meant so much to them. The little things he did for them would be the very ones they will miss the most. The food he loved, would make them sigh. His loud self and his silent support.
His family… His Che… they will miss him. Praveen, his brother-in-law's emotional speech at church, held on his birthday celebrating his life was also about how constant he was, despite himself. That day, I thanked aunty for giving him to us. I saw her surprise, her pride and her infinite sadness in one moment. When his fun games with the kids gave moments of panic to his mom-in-law aunty Surani, his statement response was "Chill Archchi"( chill grandma).  But how much he spoiled her and how much she would miss his exuberance and his chaos. For Nuwa, Vish was that one person she would trust her children with. All the talk and the support.
His friends are lost without him. Closed up. Drowning it with talk… the louder the better, anything to avoid the void that only he can fill. Then there is silence …. desperate they start it up again. But they miss him… They wait for him to turn up at some point. That is their constant.
Vish was gutsy, strong, loud and direct. He was honest and did not back down in front of bigots. Never. Qualities some people would dislike. Yet, underneath that was a beautiful soul with a large heart, a gorgeous smile, staunch and true. His many silent acts of kindness, his perception, his need to please touched so many souls. How he rode tandem bikes to hear "Aiye, thava ravumak yamuda? Mata hariaasai." (Brother, can we go another round? I really like it) His endless text messages to encourage a tired, burnt out friend to meet up more often… His tutelage, guidance in being more than what you can be… Those acts are never forgotten. To know him is to love him. As Shala said, 'It's fine to be that way. There will be those who love and appreciate him.' And they do, every minute.
If we wished enough will all this go away and can we go back to life as it was? Will we then spend more time, talk more, appreciate more? I do not have answers nor anything profound to say. I will never know why good people have to leave early. Except, I feel I write too many eulogies. I need to follow Vish who lived by the following statement which he shared on his FB page a few days before he went on his last ride. "I have no desire to fit in, no plans to walk with the crowd. I have my own mind, heart and soul. I am me and it has taken me years to realize how important that is."
I will not say goodbye, I cannot. But I say thank you.
Thank you for caring, for being you. Thank you for your part in ours and our part in yours. Our world is better because of you. Even the aching sadness is welcome in a world without you.
We all wish for so much Vish …
 Suramya Hettiarachchi Perera
---