Private, state buses mow down hundreds every year
By Shaadya Ismail
View(s):
Fatal accidents caused by private and state-run buses have exceeded last year's tally, even though the overall number of road traffic accidents have declined in the first eight months of the year.
Traffic Police Headquarters data show that private buses were involved in 138 deaths last year while this year, so far, they have been responsible for killing 161 people.
Sri Lanka Transport Board buses have ended the lives of 36 people last year and 47 so far this year.
Deaths caused by motorcyclists this year have reduced compared with last year from 907 to 861. This still remains the highest number of deaths due to accidents caused this year.
The director of Traffic Administration and Road Safety, Superintendent Indika Hapugoda said that the flouting of road traffic rules is the main reason for accidents.
"There are several programmes to create awareness among bus drivers, three-wheeler drivers and motorcyclists," he said. Programmes are also held in schools, and with the new system of heavy fines, the police hope the number of road traffic accidents will fall.
"During the first eight months of last year, there were 2,032 fatal accidents which killed 2,154 people, while this year 2,003 fatal accidents and 2,097 deaths were reported."
Lorries caused 267 deaths last year, while 236 deaths were reported this year, so far.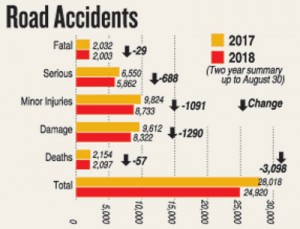 Meanwhile, 282 deaths were caused by three-wheelers, and this year, so far, the number of deaths is 273.
One in every 45 deaths is due to a road traffic accident and almost 4,000 people are maimed for life every year, according to research by Senior Professor of the Department of Transport and Logistics at the University of Moratuwa, Amal Kumarage. "Road safety cannot be less prioritised. Society at large is to be blamed for not insisting that the plague be removed."
According to Prof Kumarage, Sri Lanka should formulate policies that promote safety, including the design of safe roads.
He said that based on research, 60% of serious road traffic accidents are mainly due to badly designed roads.
Moreover, public transport should be encouraged and improved, he said.
"People misread development for concrete structures and claim the country to have already developed, but the real development lies where one's life is valued and secured,'' he said.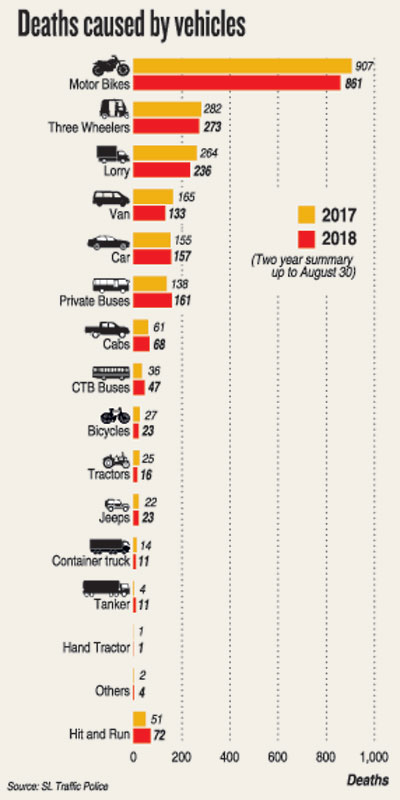 The chairman of the Nation Council for Road Safety, Dr. Sisira Kodagoda told the Sunday Times that despite the reduction in the accidents caused by three-wheelers and motorcycles, accidents by heavy vehicles have increased.
"We are planning to work together with the police to reduce accidents caused by heavy vehicles. This is mostly to reduce the road competitiveness,'' he said.
According to Dr. Kodagoda, accidents caused by motorcycles have fallen after 11 long years.