Stepping out in designer shades
View(s):

Vision Care Optical Services (Pvt) Ltd treated their VIP customers to an evening of food, fashion and music at 505 Union Place, their newly-opened Luxottica eyewear designer store.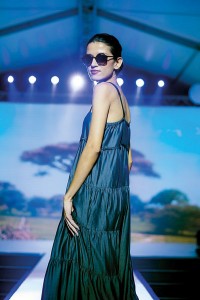 The Luxottica label which has been with Vision Care since 2012 has leading international designer eyewear brands such as Giorgio Armani, Bulgari, Burberry, Coach, Dolce & Gabbana, DKNY, Polo Ralph Lauren, Prada, Ralph Lauren, Tiffany & Co., Tory Burch, Valentino and Versace.
Hameedia, Adidas, Buddhi batiks, Fusion 14, L'Atelier Touché and Azure Luxe swim were all associated with the show.
The exclusive designer store will also feature a Kids Clinic on the first floor where specially trained staff will be on hand to handle new technology and put into play their special skills in treating children's eye problems. The 505 Luxottica building houses an academy on the fourth floor for training and development of the Vision Care staff.