Simpson's Forest Hotel: Luxury living in tea country
By Sanath Weerasuriya
View(s):
Simpson's Forest is a small sub-montane forest patch in the magnificent Hunasgiriya Mountain extending towards the Wattegama-Elkaduwa Road.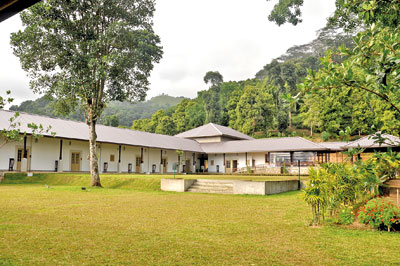 Located at an elevation of about 3900 metres above sea level, Meenawatta is the main plantation flanking Simpson's Forest. This triangular- shaped forest patch, which looks like a gallery forest, was protected as a watershed by a former Scottish planter named E. Simpson.
Tucked away among the spectacular waterfalls and embraced in a breathtaking view from scenery of the Hunasgiriya and the Meenawatta Mountain, forests and tea estates, Simpson's Forest Hotel is just half an hour drive from Kandy via Wattegama. Started its operations in April 2018 after a soft opening ceremony, Simpson's Forest Hotel (SFH) is a luxurious 23 room resort comprises of 16 deluxe rooms , two twin rooms, three attic rooms and three rooms in the traditional Colonial Bungalow, which is in very close proximity to freezing Simpson's Forest top.
'After the refurbishment and adding infinity pool with a view of blue mountain range and the gym, the traditional Colonial Bungalow offers a comfortable accommodation for nine adults. "We provide a butler service to the guests at the bungalow, if they do not wish to prepare their meals" said AkramAshroff, the Resident Manager of the property.
The property's secluded location and lavish accommodation are ideal for honeymooning couples, families looking for a quiet getaway or adventurous travellers who can embark on guided tours of the many trekking sites situated in close proximity to the resort. Guests can also have access to a plethora of other activities including bird watching, hiking, mountain trekking and adventure rides in the Hunasgiriya.
'Each room is designed to serve as a peaceful sanctuary that offers a mix of tranquil indoor and outdoor living spaces that are further enhanced the Colonial luxury living' he added.
Simpson's Forest Hotel offers two dining options for its guests. Al Fresco Garden dining under the stars and main restaurant, both are open to magnificent view of tea plantations and the Simpson Forest.
The main restaurant offers a wide variety of cuisine around the globe with a great choice of Asian, Sri Lankan and Western delights.
The Hotel offers a wide range of excursions from two hours to two day trips in and out of the region. Nature lovers will delight in trekking in the Knuckles range for the high bio-diversity, as well as the concentration of endemic species of fauna and flora found here. The possibility of combining trekking/hiking with sightseeing adds interest to guests trail.
'The excursions to nearby Sembuwatta, Hulu Ganga, Hatale, Babarella and Alagalla offer different timings and difficulty levels of experience' explained Yohan, the experienced tour coordinator of the Hotel.
'Simpson's Forest Hotel' is a fully owned hospitality arm of Seetha Holdings, owned and managed by MD Lakshman Premachandra.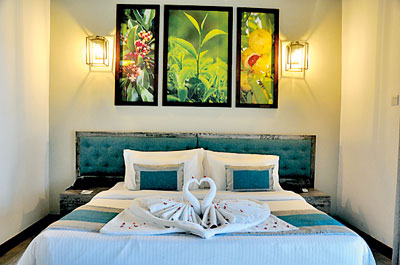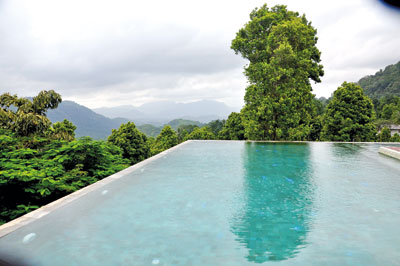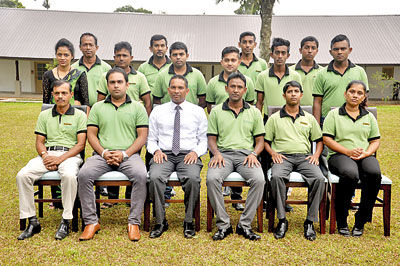 Pix by Shan Bandu Weerasinghe