Guru Gedara Festival with Chitrasena Vajira Dance Foundation
View(s):

An exclusive dance performance 'Guru Gedara' presented by Chitrasena Vajira Dance Foundation along with Cinnamon Life and the John Keells Foundation on September 7 as the finale to the Guru Gedara Festival.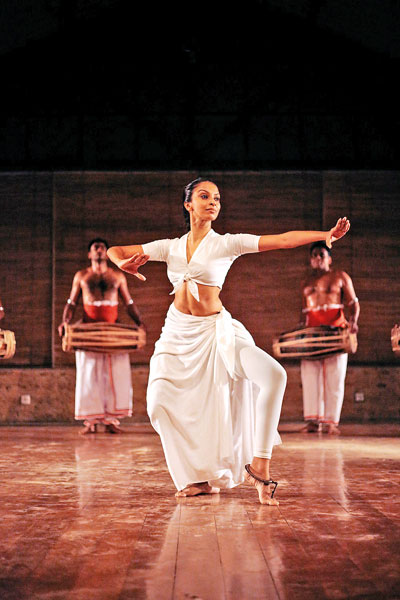 This first immersive traditional arts festival was held together with Cinnamon Life and the John Keells Foundation. The festival opened for a four-day run on August 30 and ended with a special concert on last Friday to commemorate 75 years of the Chitrasena Kalayathanaya.
It brought to together experts in Sri Lankan traditional arts to one location and created awareness and understanding of the age-old authentic art forms that has evolved into a vital aspect of the cultural heritage in Sri Lanka. The festival was designed as a fully-immersive experience where small groups of audience members were given the opportunity to interact closely with these living legends and be educated and inspired by their lives, their work and their passion.
Over 30 experts and artistes gathered at the Chitrasena Kalayathanaya over the 4- day festival to share their expertise through discussion, master classes, workshops, demonstrations and performances. During other times they would stay in their impromptu "studios/ kutis," creating their craft and sharing their expertise with small groups of audience members. Cinnamon Life is an integrated development by Sri Lanka's premier listed conglomerate, the John Keells Group. This city within a city will consist of an 800-roomed luxury Cinnamon hotel, an array of entertainment facilities, premium residential apartments, retail and entertainment mall, office spaces, and many other attractions to set stage as the entertainment hotspot in the Indian Subcontinent.
Cinnamon Life, following its opening it will be the hub of entertainment for local and international events. It will bring to reality the culture and entertainment aspects to Colombo's social life at a global level. Thus, the much-reputed initiations such as the Guru Gedara Festival, The Sound of Music, the Colombo Music Festival and Mamma Mia! is a step towards realizing the need for a venue of this calibre.
The John Keells Foundation is the Corporate Social Responsibility (CSR) entity of the John Keells Group which- since its establishment in March 2005- drives the Group's CSR initiatives from the centre. JKF carries out its strategic and sustainable projects within six focus areas reflecting the diversity within the John Keells Group.
Initiatives under each focus area are aligned to the Sustainable Development Goals as well as the United Nations Global Compact.