Cinematic celebrations in the Northern Peninsula
4th Jaffna International Cinema Festival 2018 (JaffnaICF)
View(s):
Jaffna with its rich cultural and aesthetic heritage will come alive once again with the Jaffna International Cinema Festival (JaffnaICF) to be held for the fourth consecutive year from October 3 to 8 in Jaffna.
Thirty countries will be participating at this years' festival by presenting more than 80 films including feature films, documentaries and short films. Participating countries include Afghanistan, Australia, Bangladesh, Belgium, Bhutan, Brazil, Canada, Croatia, Columbia, Czech Republic, Egypt, France, Germany, India, Iran, Italy, Japan, Kyrgyzstan, Kazakhstan, Mongolia, Nepal, Poland, Pakistan, Singapore, Slovakia, Sri Lanka, Switzerland, UK, USA and Vietnam.
Jaffna ICF is a non-partisan platform to explore contemporary forms of creative expression in cinema presented by, 'Agenda 14' in collaboration with Ceylon Theatres and the academic partner is Fine Arts Department of the University of Jaffna.
The Festival will be opened on October 3 at 5.45 p.m. at the Majestic Cineplex, Cargills Square, Jaffna with German film Raoul Peck's 'The Young Karl Marx' and will be closing with the screening of Australian film Warwick Thornton's 'Sweet Country' and the awards ceremony at Majestic Cineplex.
Honoring the seniors and encouraging the young generation of filmmakers, the festival will present five awards for Lifetime Achievement, Best Debut Film, Best International Short Film, Best National Short Film and Audience Award for the Most Popular Short Film.
At this edition of the festival, Saffaa Elaisy Haggag (Egypt), Urvashi Archana (India) and Muralitharan Mauran (Sri Lanka) will serve as the jurors in the Competition for Debut Films while Carla Maria Losch (Germany), Aunohita Mojumdar (India) and Dr. S. Jeyasankar (Sri Lanka) will serve as the jurors in the Short Film Competition.
This year, Jaffna ICF will present a retrospective of Malayalam film maker Shaji Narayan Karun showcasing 'Piravi' (1989), Vanaprastham (1999), Kutty Srank (2009), Swapaanam (2013) and 3 of his short films for it's audience. Shaji Narayan Karun will attend the closing ceremony of the festival as the chief guest .
Country Focus this year is on Poland and newly restored films by Andrzej Wajda , Krzysztof Kieslowski, Roman Polanski, Andrzej Munk and Jerzy Kawalerowicz will be screened.
Government Film Unit of Sri Lanka will present a package of historical Sri Lankan documentaries for the second time this year in Jaffna.
Other notable documentaries to be screened in Jaffna are 'The Anatomy of Violence' by Deepa Mehta, ' Versus: The Life and Films of Ken Loach' by Louise Osmond and 'Landfill Harmonic' by Brad Allgood and Graham Townsley.
Filmmaker Brad Allgood (USA) will do a Master class on Documentaries and join a discussion on 'Crowd Funding for Films' in Jaffna. Award winning filmmaker Shaji Narayan Karun, award winning actress Urvashi Archana (India) and renowned film critic Saffaa Elaisy Haggag (Egypt) will present masterclasses during the festival.
Dr. T. Sanathanan, Visual Artist and Head of the Fine Art Department of Jaffna University will take groups of festival visitors on a memory walk called "Silver Screen : A walk through 70-80's Cinemas of Jaffna"
JaffnaICF will honour veteran cinematographer Vyramuthu Vamadevan by presenting the Life Time Achievement Award for his contribution to Sri Lankan Cinema at the awards ceremony.
Ceylon Theatres for the second consecutive time will present Ceylon Theatres Award for the Best National Short Film with a cash prize of Rs. 100,000.
Main Venues of the festival are Majestic Cineplex – Cargills Square and Kailasapathy Auditorium – University of Jaffna. Public Library Auditorium will be a dedicated venue for films on reconciliation and coexistence. Fringe events will be held at British Council – Jaffna and American Corner in Jaffna.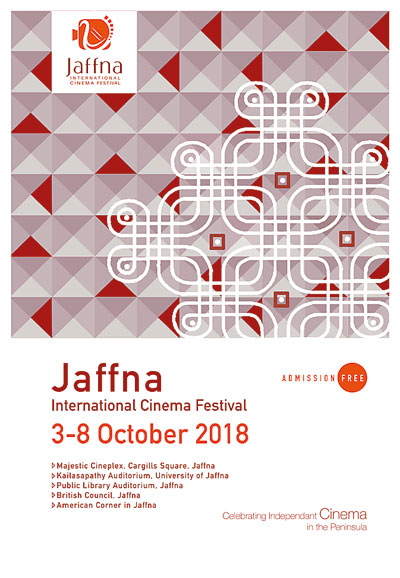 The main intention of Jaffna ICF 2018 is to celebrate independent cinema in the peninsula, recovering from the destruction caused by a 30-year war. Using art to reach out to people, this festival would create a space for communities across borders to interact with each other through cinema.
"At a time, the country is divided by the language we speak, the faith we believe in and the political ideologies we depend, cinema could become a powerful medium of expression in the journey towards peace and reconciliation," said Anomaa Rajakaruna, Festival Director who has taken up the mammoth task to have the much awaited festival annually.
"Four years ago, Jaffna International Cinema Festival was launched with the intention of creating a dialogue across borders and communities. It's a long journey ahead of us but as team we are happy that we have come this far," she added.
Government Film Unit, The Thinnai Hotels, Andrew The Travel Company, Sooriyan FM, Goethe Institut, Chrysalis and GIZ, are the other partners of Jaffna ICF 2018.
British Council, Embassy of France, Alliance Francise de Kotte, Institut Francais, Embassy of Switzerland, Embassy of Italy, Embassy of USA, Consulate of Slovakia, High Commission of Canada, High Commission of Australia, Polish Institute in New Delhi, Embassy of Czech Republic in New Delhi, Iran Cultural Center and UNFPA will present films.
Compiled by Susitha R. Fernando