Black Eyed Peas release new album
View(s):

The Black Eyed Peas have released their first new song in eight years. 'Big Love', a politically related track came out on 14th September. Proceeds from the sale of the song will be channelled to the US anti- gun group March For Our Lives and the migrant support group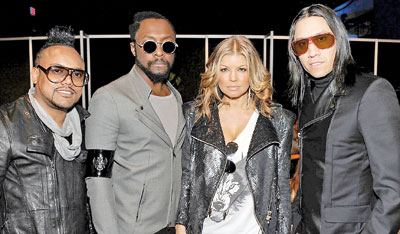 Families Belong Together Foundation. The released single will be the forerunner to BEP's next album 'Masters Of The Sun' which is to come out on 12th October. It is not clear if Fergie will on any of the album tracks. She is not on the current single.
Pop star Selena Gomez has donated $100,000 to her own Lupus Research Fund after her design of Puma footwear was released. She is promoting the new Defyx SG sneakers. Selena is a brand ambassador for the shoe brand. The 26 year singer was struck by Lupus prior to 2014 and then last year underwent a kidney transplant.
Rita Ora is to release a new single called 'Let You Love Me' next week. She made the announcement backstage at the BBC 2 Live in Hyde Park concert according reports from the UK. Ora also mentioned her second album will be released in November.
Ed Sheeran took time off his US tour to meet with children at the Boston Children's Hospital on 15th September on behalf of the Ryan Seacrest Foundation. After mingling with his young fans he performed his hit song 'Perfect'. The famous Glastonbury festival will be back next year after taking a break this year. Tipped to perform are Kylie Minogue and Cher in legends slot. Kylie pulled out of the 2005 as she underwent Cancer surgery.
Calvin Harris & Sam Smith's 'Promises' has cemented itself at the top of the UK singles chart for a second week. This was helped by the fact of combined sales through streaming and downloads at a combined figure of 63,000. Last week it was mentioned here the number of times 34 year old Calvin Harris had been to the UK singles No: 1 spot. For Sam Smith 'Promises' is his sixth UK No: 1 song as lead singer or co-lead singer. The 26 year old has been at the No: 1 for two more songs on the UK chart as a featured singer.
Reports indicate that despite losing the No: 1 spot Benny Blanco's hit 'Eastside' has been leading the battle for the top spot again along with the new entry by Kanye West & Lil Pump. 'I Love It' by the hip hop duo debuted on the UK chart at No: 3. The song with its adult lyrics is a standalone release and features the uncredited appearance of the US comedian Adele Givens. 'I Love It' is Kanye West's 15th UK top 10 hit song. It follows 'Yikes' which peaked at No: 10 in June.
Marshmello secured another UK top 10 song when 'Happier' moved up the chart from 15 to No: 6. The vocals for the song is by the British band Bastille. The American DJ and producer noted for concealing his identity with a helmet has now scored his fourth UK top 10 hit since 2017.
TW LW
1 1 Promises – Calvin Harris & Sam Smith
2 2 Eastside – Benny Blanco ft: Halsey / Khalid
3 – I Love It – Kanye West & Lil Pump
4 5 Body – Loud Luxury ft: Brando
5 8 Taste – Tyga ft: Offset
6 15 Happier – Marshmello ft: Bastille
7 10 Girls Like You – Maroon 5 ft: Cardi B
8 9 Fall – Eminem
9 6 Lucky You – ft: Joyner Lucas
10 4 The Ringer – Eminem