Become your own legend with Asphalt 9 Legends
By Mahesh De Andrado
View(s):
If you're fan of racing games, you would have at some point heard of Asphalt. Developed by Gameloft, Asphalt made its debut on Android and iOS devices. The game became an instant hit, with a number of spin off games developed as well. With the launch of Windows 10, Asphalt also made its way to desktops and laptops as well. Having played Asphalt 6 and 8 on my OnePlus 2, I could never get used to the controls. So you can imagine my excitement when I could finally use the keyboard and gamepad and also have smoother graphics. With Asphalt 9, things are getting even more exciting.
The makings of a legend
With Asphalt 9 Legends, players have access to over 50 cars to drive. These range from classic tuners, to muscle cars, hyper cars and everything in between. After watching the trailer, I immediately downloaded the game from the Microsoft Store. Bear in mind that the game is around 1.8GB in size so if you're on a limited data plan for your internet connection, you might want to download it during off-peak times.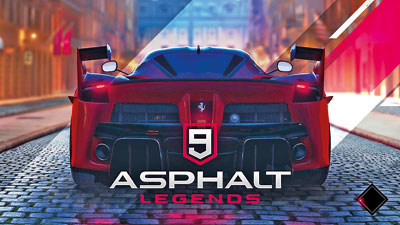 The main menu of the game has an updated feel to it. It also feels a tad cluttered, especially if you're playing on a smaller screen. The tile like options are scrollable and give you access to your Career, Multiplayer, Events and My Club.
The Multiplayer mode starts you off with players ranked as your equals. From there, depending on how good you are, you can either climb up the ranks to race against stronger opponents or you'll be at the bottom of the ladder.
If you're more like me and go straight into the career more, then you'll be happy (and somewhat horrified) to know that Asphalt 9 has over 60 seasons and over 1,400 races. In fact, having done 117 races, I am still 8% into the career of Asphalt 9. Clearly this game has a lot going on.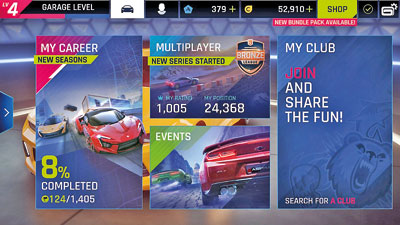 Taking to the streets with Asphalt 9
Races in Asphalt 9 take place across a number of locations. These range from the great wilderness, to Himalayan mountains, to the streets of Japan and a host of other countries. Each track adds its own unique spin which you can use to your advantage to win the race.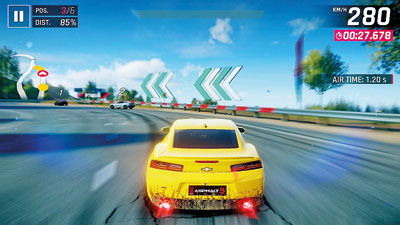 In terms of controls, you have two options. You can either follow the on-screen prompts to switch between left, center and right lanes. If that's not your thing, you can opt for a more hands on approach and steer the car using the left and right arrow keys. Acceleration is automatic so you don't have to worry about that. The bar located at the top of the HUD during races shows you the boost meter. This can be activated to give you a short burst of speed which you can either use to overtake your opponents or ram into them and take them down (akin to the Burnout series).
Each takedown you do also adds to your boost meter but you also lose precious time in the actual race. So you need to balance out taking down opponents and keeping the lead. Helping you to regain your boos are ramps and jumps across all the tracks. In addition, you can also double tap the brake to perform a 360-degree spin. Time it correctly and you can actually take out opponents and refill your boost at the same time.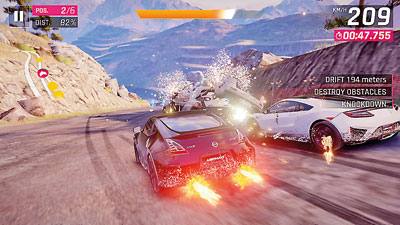 Winning is the only way to become a legend
Win the race and you will be rewarded with a number of items. These include cash, experience points used for you to level up as well as tokens. The tokens can be used to purchase card packs that contain things like blueprints used to unlock new cars and performance upgrades that are usually not available in the store.
Each chapter in Asphalt 9 has a number of seasons. These seasons increase in terms of difficulty and car class as well. So in order to progress you will have to race and unlock blueprints for faster cars. There are also micro transactions available. These usually give you large sum of in game cash and blueprints for cars which can be used for races. However, these are not exactly mandatory. You can still play the game without using actual cash.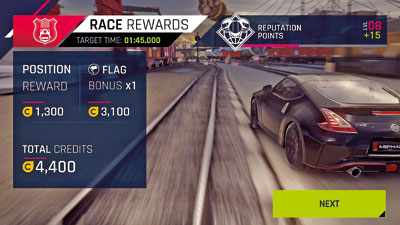 My experience with Asphalt 9
I don't consider myself an excellent gamer when it comes to racing, but it is a passion of mine. Having played games such as Need for Speed and Burnout which you had to purchase, I was intrigued to see how well Asphalt 9 would compare. 2 Weeks later, I haven't touched any other racing game.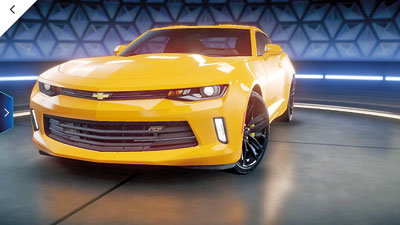 Everything about the game is just beautiful. The graphics are top notch with high quality detailing done for each vehicle model. This is visible when you access the in game garage and move the mouse around to look at the car. Another interesting note is that the game uses the Bullet physics engine and the Jetengine game engine. This essentially means that even low end laptops or desktops that have no dedicated graphics card can play Asphalt 9 in all its glory with little to no lags.
The music score is the next thing that catches your attention. The songs range from rock, to electronic to pop and a variety of other genres. Each song suits the racing mood and helps amplifiy the excitement as well. Unfortunately, there's no option to skip tracks so you will just have to wait till your favorite track plays if you're in the mood for it.
Asphalt 9 is strangely addictive simply because of the way races are laid out. Each car can only be used in a race for a limited amount of turns. So if you lose a race and you're out of fuel, you will have to wait till you get at least one fuel point. Alternatively, you can use your tokens to fully refuel the points and get back to racing.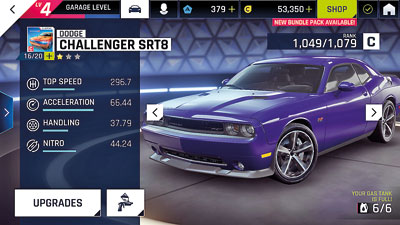 How does Asphalt 9 compare with the big boys?
Honestly, I am quite impressed with Asphalt 9. Having played it ever since it was launched, I don't see any potential dealbreakers to the game. It has visually stunning graphics, a killer soundtrack and addictive gameplay. Most importantly, it's free.
With Microsoft adding games such as Asphalt, Modern Combat and a plethora of other mobile games, it becomes a lot more appealing for people to play the game. They no longer have to worry about forking over cash for games and they can still get the same experience they would get from playing games such as Need for Speed. The Bullet physics engine coupled with the Jetengine game engine also mean that you can play Asphalt 9 on even relatively old hardware with no issues.
Overall, I feel that Gameloft has created something beautiful with Asphalt 9 Legends. If you're interested, you can go ahead and give it a try and tell us what you think about it.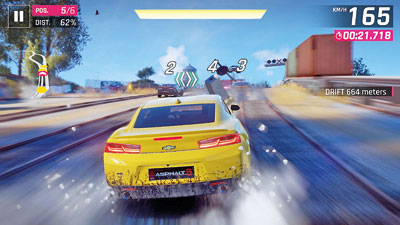 The author is a senior tech writer for ReadMe a leading tech news provider. For more information log onto readme.lk