Kids' World
View(s):

My hobby

My hobby is reading storybooks. I have lots of books. Most of these books are written by my favourite author Enid Blyton.
Reading books is so interesting. I borrow the books I haven't read from my school library.

I give some of my books to my grandfather and friends to read and return. If I have enough money to buy books, I go to the
bookshop every week. My parents give me a storybook on my birthday.
It is very interesting to sit on my bed and enjoy reading a book before bedtime! I like my hobby very much.

Reema Ghazni (8 years)
Najaa Int. School, Mt. Lavinia
---
Home away from home
Human beings need many things to live, from the day that we are born into this world. My twin sisters and I were enrolled to a
day-care, with lots of love, tasty food, together with protection.
Mrs. Jayanthi Balendra, the principal of Koala Kids International is like a mother to all of us. She feeds us, sings to us, tells stories and discusses good and bad things with us. She and the teachers arranged a wonderful holiday programme this summer vacation, including going for a movie, a mini concert, an art and craft activity and much more.
For a kid there is no place like home.
We are blessed with mother's love and father's protection. I feel very comfortable and protected just as at home, with the Koala Kids family. A warm welcome by
Mrs. Balendra, our teachers' guidance and the delicious food of Aunt Mano, makes Koala Kids International a heaven for us.
Hiruki Weragala (Grade 6)
Visakha Vidyalaya
---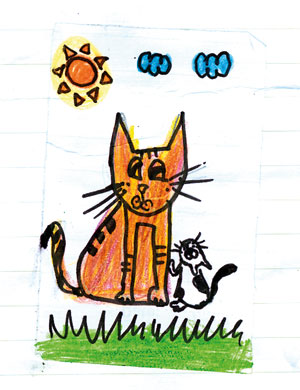 She will always be in my heart…
I had a lovely pussycat,
Who always makes me smile,
And every day after school,
I would kiss and hug her.
She would love to drink milk,
She would love to eat meat,
She would play with me forever,
And never get angry with me.
When she does bad,
I tell her not to do,
But she's a naughty cat,
Who would always do.
When I give her some sprats,
She would never do it again,
So that makes me say,
She is a very cunning cat.
When I'm sad,
She will come to me
And try to purr and
Make me happy.
But since a time of,
One to two years,
I have not heard,
Her purr
to my ears.
But before
she went,
She gave me a gift,
Worth a fortune,
That's her kitten!
Now today, even though,
My pussy is not here,
She is in my heart,
Trying to make me laugh.
Rivini Cooray (10 years)
Bishop's College
---
My favourite toy
I always wanted to have a toy called the Barbie Dream-house. I like the Barbie
Dream-house mostly because we get at least three Barbie dolls. The sofas transform into little beds for Barbie and her sisters. Some houses have three floors including an elevator for going up and a water slide for coming down. It comes with a shower and a closet full of pink clothes.
The kitchen has a whole lot of accessories such as mini pink ovens, pots and pans. There's a garage fit for Barbie's pink car.
The best part is that their house is on wheels, pink wheels! It's like a campervan but more like a camperhouse because it has a bathroom, kitchen, about five beds and of course a closet. That's what Barbie's all about – Fashion.
Barbie's dream-house is my dream. Hopefully someone will make my dream come true to make me the happiest girl in the world. That is happiest in Barbie world.
I love Barbie's dreamhouse.
Hana Faheem (8 years)
Kurunegala
---
Trincomalee
I went to Trincomalee during my school holidays in August. First I went to Marble Beach. Then I went to Koneswaran Kovil. I visited the Naval Museum and the Coral Cove Beach nearby. I collected many seashells and corals there.
The next day I visited the
hot water wells at Kanniya. Then I went to worship the Girihandu Seya. After that I went to Nilaveli Beach. I bathed in the sea there. I quickly went to Sri Lakshmi Narayana Perumal Temple and Uppuveli Beach before coming back home.
I had a good time in Trincomalee. I want to go there again some day soon.
Hiranga Suraweera
(7 years)
Trinity College, Kandy
---
My favourite shark
My favourite shark is Megalodon. The largest shark that ever lived, its scientific name is Caracharodon megalodon. Its teeth could have been up to five times bigger than those of the great white shark. Its torpedo shaped body helps speedy swimming. Megalodon may have had the biggest bite for any animal. Its size is possibly more than 20 m (65.6 feet) long.
It lived in the oceans and seas worldwide. Their diet was large fish and marine mammals such as whales. The largest shark Megalodeon is now being extinct. It lived in the Miocene epoch, a time when mammals had long since replaced dinosaurs.
Naveela Hettiarachchi (Grade 7)
Lexicon Int. School, Kandy