Public anger mounts over strikes, protests
View(s):
In one of the most challenging polls in recent times, both the Business Times and its polling partner, Second Curve have found that strikes and street protests inconvenience the public, tremendously and the government needs to deal firmly with the situation.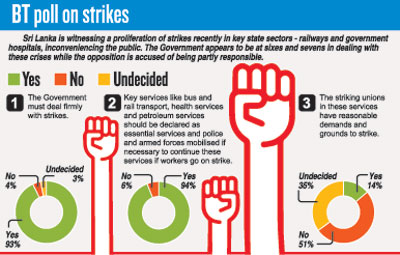 "These protests and strikes are destroying the country and we don't know where it will end," one worried respondent said.
Whether these protests and strikes were deliberately meant to inconvenience the public – to put pressure on legislators and the Government and thus seek solutions – was however unclear in an analysis of the two surveys conducted on the streets of Colombo and on email. Results of the street poll will be published next week.
But some street respondents also defended the protestors saying in general that such actions were carried out since the Government has failed in its many obligations to the people, particularly in adhering to the promise of good governance.
While the Second Curve poll was comprehensive and scientifically structured, the Business Times raised three simple questions seeking "Yes", "No" and "U (unsure)" responses.
To the question that the Government must deal firmly with strikes, 93 per cent of the respondents said "Yes".
Asked whether key services like bus and rail transport, health services and petroleum services should be declared as essential services and police and armed forces mobilised if necessary to continue these services if workers go on strike, 94 per cent said "Yes".
However asked whether striking unions in these services have reasonable demands and grounds to strike, 51 per cent said "No" while a sizable component (35 per cent) responded with "Unsure". The rest said "No".
Among the comments received in the street poll were that "protests were happening because the Government has forgotten its good governance mandate";
the "University Students' Front is always creating problems. They are very indisciplined"; "doctors make money and in turn, deceive us"; "there needs to be discipline in the country, if not we should try Army rule. This can't go on".
It was also stated that protestors are not developing the country but in contrast, destroying it and that "no one knows where this will end".
While one respondent said taking to the street was a practical way of protest to win rights, others said that teachers' wages should not be increased since they earn a lot on tuition and inculcate indiscipline in schools.
Respondents in the email poll responded by urging a ban on street protests or designate public space for this without blocking traffic. They also said the government should declare services as essential, barring the right to strike or use the armed forces to run this in a crisis.