Skipper Gunasinghe's mission to take Anthonians to the promised land
By Aubrey Kuruppu
St. Anthony's cricket 2018
View(s):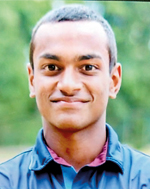 Eight wins, and the Anthonians were poised for a break-through and promotion to Division One. Yet those fond hopes were dashed by a loss to the Annites in the semi final. The fact that they had thrashed the Kurunegala team by 10 wickets earlier, made the loss doubly disappointing.
Thus, this year's skipper Theeksha Gunasinghe is on a mission to take the team to the promised land. A multi talented sportsman, Gunasinghe is a fifth year player. As premier batsman, wicket keeper and skipper, he will be wearing three hats. Gunasinghe has cricket (and lots of it) in his genes, being the brother of Nimesha who led the team in 2013/14 and the nephew of Ruwan and Nuwan Kalpage, both former skippers.
Gunasinghe is best in 2017/18 was 101 not out against Dharmaraja. He also had scores of 89, 82, 71 and 92 not out. Thirty five victim behind the stumps puts him in the all rounder category. In addition to Gunasinghe, the team will have three other Coloursmen – Navodya Vijaykumar, Nimanka Jayatilleka and Kalhara Senaratne.
Utility player, and fighter, Tamashana Abeykoon will be the vice captain. He was adjudged the best fielder at the Dialog 4G-the Sunday Times Schoolboy Cricketer of the Year 2018 contest.
All rounders Vijaykumar and Senaratne, and spin sensation Jayatilleka should feature very prominently during the season. Attacking left hander Navodya Vijaykumar has a touch of Ben Stokes about him. He had scores of 89, 85, 74 and 56. A lively medium pacie, he took 6-43 (Dharmaraja) and 5-21 (Royal Panadura).
Senaratne, like Vijaykumar, represented the Under-19 team against their Indian counterparts. Off spinner and left hander Senaratne scored 119 not out against Kingswood and bagged 4 for 28 too. He had a five wicket hand against the Indians in the four day match.
Small-made left arm spinner Nimnaka Jayatilleka was the talk of the town. He captured five or more in an innings on eight occasions. 9 for 48 (Wesley), 8 for 49 (Zahira), 6 for 50 (St. Sebastian's) and 6 for 59 (St. Peter's) were his best efforts. Jayatilleka ended up on 90 wickets.
While the four cricketers mentioned earlier, the core of the team, and the power base as it were, the Anthonians have plenty of others who are waiting to be given the nod. Mohamed Kameel, batsman cum off spinner, has been around for a while. Pacie Sasith Hirudika has made impressive strides and featured prominently in the Anthonian run to the semi finals of the Under-17.
Lasith Werellagama has shown that he can be counted on in a crisis. Chamindu Wickremasinghe made 160 in an Under-17 match. Big-made Tharindu Hewage and Dayan Pankaja are aggressive strikers at the top. Sachin Prabath seems to be coming along nicely. Nipun Ashok started off well two years back but has lost his way.
Anthonian supporters are excited by the exploits of Under-15 left hander Asitha Wanninayake. He is a handy off spinner too. With a strong power base and plenty of options, this Anthonian side should go a long way.
Gihan Ebert, Mohamed Rukshan, Gihan Achintha, Pramuditha Panditharatne, Savin Weerasinghe, Dulshan Perera, Nilukshan Udayakumara, Chamika Samarasinghe and Gayan Samarasinghe complete the list.
Coach – Suneth Gunatilleka