Malinga gets four, but, Lanka hit the bottom again
By Champika Fernando reporting from Dubai
Mushfiqur 144; Sri Lanka lose all ten wickets for 124
View(s):
Lasith Malinga returned to international cricket with a bang claiming four wickets in his first match in 12 months, but the butterfingered Sri Lankans have themselves to blame for the crushing 137 run defeat against Bangladesh in the opening fixture of the Asia Cup here at the  Dubai International Cricket Stadium last night.
Bangladesh needed just  35.2 overs to bowl Sri Lanka out—their lowest total against Bangladesh as Sri Lanka were like a deer caught in headlights, making for a sensational collapse in the chase.  The defeat put Sri Lanka in a must-win situation against Afghanistan on Sunday to stay in contention for a Super Fours spot in the six-nation tournament contested by the regions heavy weights.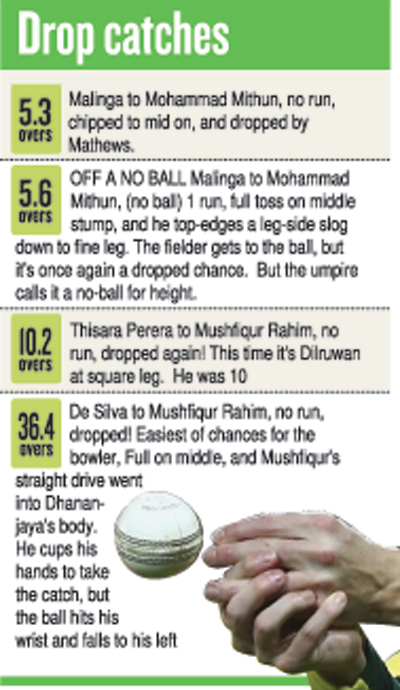 Sri Lanka's chase got off to a flying start when Upul Tharanga smashed 13 runs off the opening over including a six and four off Mashrafe Mortaza but their journey was derailed by a smart bowling effort by the Bangladeshis who made inroads to Sri Lanka's innings at regular intervals.
Leading into yesterday's opener, Sri Lanka may have done everything under the sun including training sessions in match situations back at home but nothing seems to have helped them get out of the rut they've been stuck in during the last several months.
Sri Lanka's fielding has been a point of major discussion for many moons. They have repeatedly leaked runs and missed catches. This was once again in full exhibition as at least four catches were dropped, including one off a no-ball yesterday—the main reason for embarrassing defeat.
After being put on to bat first, Sri Lanka placed themselves in a strong position through a magnificent seam bowling effort from comeback man Lasith Malinga and Suranga Lakmal, giving away just 24 runs off the first 10 overs and picking the wickets of Liton Das and Shakib Al Hasan. But the scorecard would have been a completely different picture had Sri Lanka picked up the wickets of Mohammed Mithun and Mushfiqur Rahim when they offered fairly straightforward chances in the first ten overs.
Angelo Mathews, who has repeatedly denied Sri Lanka's fielding woes, dropped Mithun on one, off Lasith Malinga, when the batsman chipped into the mid-on area. A diving Mathews got his hand onto the ball but a lack of balance saw it popping out of his hand. This offered a second life to the Bangladeshis.
In the same over, though on a no-ball, Amila Aponso dropped Mithun at fine leg boundary.  But the costliest was when Sri Lanka let off centurion Mushfiqur twice during his marathon innings of 144 off 150 balls. Mushfiqur was on just ten when Dilruwan Perera dropped him at square leg—a fairly easy opportunity. After that mistake, Mushfiqur has powered his way to 85 runs having shared 131 for the third wicket with Mithun when Dhananjaya de Silva dropped a sitter on his own bowling. Probably the best fielder in the side, Dhananjaya cupped his hands to take the catch but the ball hit his wrists and fell to his left. Mushfiqur added 59 runs thereafter to score his career-best ODI score—the second highest score by a Bangladesh player in limited over cricket.
Early on, however, it was all happening for the islanders. Malinga, the veteran seamer, was at his brutal best as he breathed fire on a lively track as he struck in his maiden over removing opener Linton Das and one-drop Shakib Al Hasan off the last two deliveries to put Sri Lanka in a strong position before they let the advantage slip out of their hands. Das was caught at first slip by Kusal Mendis while a perfect in-swinging yorker crashed into Shakib's stumps to leave the thousands of Bangladesh supporters in shock.
In his second spell, Malinga had Mithun caught behind for a well composed 63 runs, his maiden half century, and Mosaddek Hossain to put Sri Lanka once again back in the game but Rahim stole the show with a boisterous knock and thrust Sri Lanka out of the contest.
Malinga was the pick of the bowlers, returning figures of 4/23 while off-spinner Dhananjaya de Silva also returned figures of 2 for 38. Bangladesh suffered a major blow in form of their top-order with batsman Tamim Iqbal being ruled out of the entire tournament with a broken wrist. Tamim took a blow on his wrist early in the match from a delivery by Suranga Lakmal. However, he returned to bat at the fall of the ninth wicket. His heroic act will also be remembered by one and all as he came out despite having retired hurt with a fractured wrist. Tamim allowed Mushfiqur to have one final blast during the slog overs.
Scoreboard
Bangladesh
Tamim Iqbal retired hurt 2
Liton Das c Mendis b Malinga 0
(Length delivery on the off, pitches and moves away, batsman lunges forward to defend, ball edges and reaches first slip)
Shakib Al Hasan b Malinga 0
(Full on off stump, swings in, attempts to drive, but misses, creeps through bat and pad to hit the off stump, Golden Duck)
Mushfiqur Rahim c Mendis b T. Perera 144
(Full on off side, plays straight over the bowler, caught at long on)
Mohammad Mithun c KJ Perera b Malinga 63
(Bouncy delivery with a good length, hits across the line, gives a leading edge to wicketkeeper)
Mahmadullah c de Silva b Aponso 1
(Pitches in line, pulls, but gets a top edge, a diving catch at cover)
Mosaddek Hossain c KJ Perera b Malinga 1
(Averagely higher than waist length, running down the legside, attempts to paddle, finds a top edge to the wicketkeeper)
Mehidy Hasan c and b Lakmal 15
(Slower delivery on the off, attempts to straight drive, hits on the off side of the bat, bowler takes a low difficult return catch)
Mashrafe Mortaza c Tharanga b de Silva 11
(Slightly faster and wider delivery, attempts to hit hard, caught at cover point)
Rubel Hossain lbw b de Silva 2
(Full, bowled around leg stump, makes a untamed effort towards leg, lbw appeal turned down, reviews and the original decision is reverted)
Musrafizur Rahman run out 10
(Full toss on off stump, plays it straight down, mid-off fielder stops and sends the ball to the wicketkeeper)
Extras (lb4, nb1, w7) 12
Total (All out; 49.3 overs) 261
Fall of wickets: 1-1 (Das, 0.5), 2-1 (Shakib, 0.6), 2-3 (Iqbal, 1.6), 3-134 (Mithun, 25.3), 4-136 (Mahmadellah, 26.2), 5-142 (Hossain, 27.6), 6-175 (Mehidy, 33.4), 7-195 (Mortaza, 38.6), 8-203 (Rubel, 42.4), 9-229 (Rahman, 46.5), 10-261 (49.3)
Bowling: Lasith Malinga 10-2-23-4, Suranga Lakmal 10-0-46-1, Amila Aponso 9-0-55-1, Thisara Perera 7.3-0-51-1, Dilruwan Perera 3-0-25-0, Dhananjaya de Silva 7-0-38-2, Dasun Shanaka 3-0-19-0
Sri Lanka
Upul Tharanga b Mashrafe Mortaza 27
(Back of the length of the stumps, comes into the batsman, attempts to steer to third man, under-edged to the stumps)
Kusal Mendis lbw b Mustafizur Rahman 0
(Full and on the stumps, pitches on leg side, strikes on the pads, appeal turned down, reviews and original decision reverted)
Kusal Perera lbw b Mehidy Hasan 11
(Pitches a bit wide off the stumps, batsman defends, but misses and hits the pad)
Dhananjaya de Silva lbw b Mashrafe Mortaza 0
(Ball swings back in from the off stump and hits in front, given out immediately, reviews, original decision stays)
Angelo Mathews lbw b Rubel Hossain 16
(Length delivery on the off, swings in, flicks, misses and hits the pads straight on)
Dasun Shanaka run out 7
(Pitches full outside off, spins in, plays on the leg and takes a quick run, but sent back by non-striker Mathews)
Thisara Perera c Rubel b Mehidy Hasan 6
(Pitches outside off, slogs across, and top edges to point)
Dilruwan Perera st Das b Mehidy 6
(Pitches wide outside off, and spins away, goes down the pitch drives and misses)
Suranga Lakmal b Mustafizur Rahman 20
(Lengthy, low delivery on the middle, tries to play across, misses and hits the stumps)
Amila Aponso c Nazmul b Shakib 4
(Full on off, slogs on the leg, straight forward catch to mid on)
Lasith Malinga not out 3
Extras (lb4, nb1, w7) 12
Total (All out; 35.2 overs) 124
Fall of wickets: 1-22 (Mendis, 1.6), 2-28 (Tharanga, 2.6), 3-32 (Dhananjaya, 4.3), 4-38 (KJ Perera, 9.2), 5-60 (Shanaka, 16.1), 6-63 (Mathews, 17.2), 7-69 (T. Perera, 18.5), 8-96 (Lakmal, 25.2), 9-120 (D. Perera, 34.1), 10-124 (Aponso, 35.2)
Bowling: Mashrafe Mortaza 6-2-25-2, Mustafizur Rahman 6-0-20-2, Mehidy Hasan 7-1-21-2, Shakib Al Hasan 9.2-0-31-1, Rubel Hossain 4-0-18-1, Mosaddek Hossain 3-0-8-1