Inside story of the near miss at Sri Lanka Cricket
By S.R. Pathiravithana
View(s):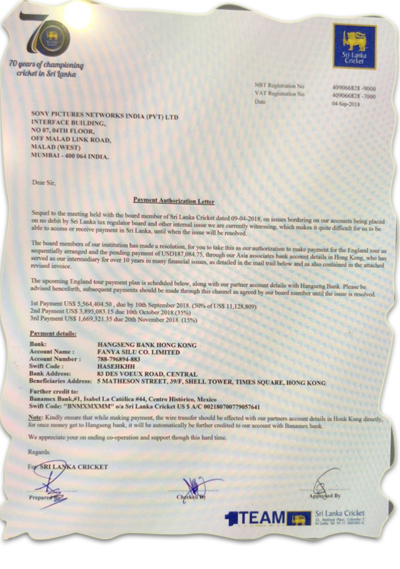 The Sunday Times is in possession of a copy of the controversial letter which was alleged to have been forwarded to Sony Pictures Networks India requesting an initial payment of US$ 5,564,404.50 for the TV rights of the forthcoming Sri Lanka vs England series which will take place from October 5 to November 27.
The inside story goes to say — initially when the request letter was received, the first to sound the alarm bells was the Lanka representative for Sony Networks, Amali Thirimavithane, who found the letter to be suspicious. Then the person whom she could reach was Chief Operations Officer Sri Lanka Cricket Jerome Jayaratne who at that time was in Malaysia on holiday with his family. Jayaratne had told Ms Thirimavithane to hold payment.
Jayaratne in turn also found the request to be highly irregular and alerted Chief Executive Officer Ashley de Silva about the situation at hand.
From that point onwards the SLC official machine was at work. As initial step, the SLC officials sent financial controller Dissanayakelage Piyal Nishantha on compulsory leave until investigations are over.
It was also revealed at the press conference which was held in this regard by the SLC that the signatures of Jayaratne and de Silva had been forged.
However, persons who are familiar with the subject ask why a senior person get involved in a transaction which leaves a direct trail on him, because the entire transaction was done on the official SLC computer. They say that they believe that it would have been done on someone's instructions.
The letter in question reads:  (The letter is published verbatim)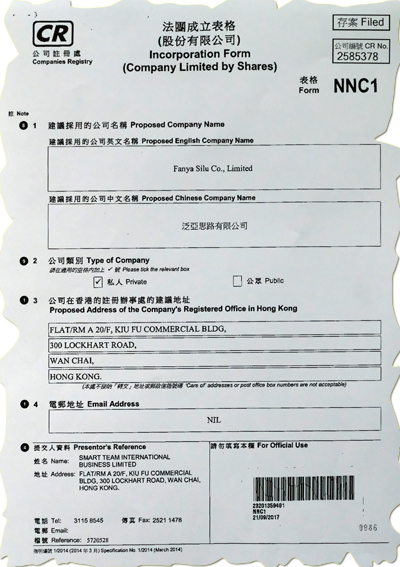 Sony Pictures Networks India (Pvt) Limited
Interface Building,
No 07, 04th Floor,
Malad (West)
Mumbai – 400 064 India.
Payment Authorisation Letter
Sequel to the meeting held the board member of Sri Lanka Cricket on 09-04-2018, on issues bordering on our accounts placed on no debit by Sri Lanka tax regulatory board and other internal issues we are currently witnessing, which makes quite difficult for us to be able to access or receive payment in Sri Lanka, until when the issue will be resolved.
The Board members of our institution has made a resolution, for you to take this as our authorization to make payment of US$187,084.75, through our Asia associates bank account details on Hong Kong, who has served as our intermediary for over 10 years in many financial issues, as detailed in the mail trail below and as also contained in the attached revised invoice.
The upcoming England tour payment plan is scheduled below, along with our partner accounts details with Hangseng Bank.  Please be advised henceforth, subsequent payments should be made through this channel as agreed by our board member until the issue is resolved.
1st payment US$ 5,564,404.50 due by 10th September 2018. (50% of US$ 11,128,809)
2nd Payment  US$ 3,895,083.15 due 10th October 2018 (35%)
3rd Payment US$ 1,669,321.35 due 20th November 2018 (15%)
Payment Details:
Bank:  HANGSENG BANK  HONG KONG
Account Name: FANYA SILU Co. LIMITED
Account Number:  788-796894-883
Bank Address:  83 DES VOEUX ROAD, CENTRAL
Beneficiaries Address: 5 MATHESON STREET, 39/F, SHELL TOWER, TIMES SQUARE, HONG KONG
Further Credit to:
Banamex Bank, #1, Isabel La Catolica #44, Centro Historico , Mexico
Swift Code:  "BNMXMXMM" o/a Sri Lanka Cricket US $ A/C 002180700779057641
Note: Kindly ensure that while making payment, the wire transfer should be effected with our partners account details in Hong Kong directly, for once money get to Hangseng bank, it will be automatically be further credited to our account with Banamex bank.
We appreciate your ending co-operation and support though this hard time.
Regards
…………………..
For:  Sri Lanka Cricket