Club or Country; loyalty at a price
View(s):

How well is Sri Lanka Rugby (SLR) positioned to cater to emerging markets, while retaining the product which still remains at 8 Clubs? Take a cue from Pepsi, look at the consumer preference and fill in. Otherwise, we will distributing the same song in a CD format that nobody wants, except those who live in the past.

A not-popular song, "Not available to play in the National Team", is played again. This time it is Jason Dissanayaka. He has made himself unavailable for National duty at the ARFU 7s Round I matches this week.

A selector talking to this writer during the recent Rugby Rumble at Havelock Park said that, Jason has not availed himself due to health reasons. However, he explained that the player who was not available, as he was not fit, played for his Club in an Asian Club series match in Bahrain. His question was, "What would be done?" My question is, "What is it you want done, as we have been talking about this on and off."

If he was ill, we cannot pin him down. But, when he plays for his Club, while reporting sick, amounts to deceit. On the first count of opting to play for his Club and not the National team, can be justified on the basis that he is contracted to the Club. It is the Club that butters his bread. This is an argument that has been on for some time, but little has been done over the years to sort out the problem. Sri Lanka is not alone in this issue. But Lankans keep chanting country comes first at the drop of a hat. That is Sri Lanka, and is Rugby different?

I repeat a quote from Sir Alex Ferguson, the successful Manchester United coach. This was published in this column last week. "Never, ever cede control. You have to get rid of a player if he is creating discord and trying to wrest some of your power, even if he is the best player in the world. Do not worry about whether players like you." Who will bell the cat, irrespective of whoever the godfather might be? Who will release the cat is the next question?

During the weekend, I watched the Rugby Rumble at Havelock Park. Players banded themselves to play Over (O)-20 and O-40 Tag Rugby. St. Thomas' Sharks won the O-20. CR Legends won the O-40, but the spirit of community Rugby was lost, as this team kept the game stopped for about 10 minutes, as they disputed the Referee. Speaking to those who had gathered to enjoy the fellowship, including a Sri Lankan team from Dubai, there was disappointed at the attitude. The summing up of spectators was that, this is all to do with the prize money. We are not in the so called spirit of world of Rugby, whether it is National Rugby or Community Rugby, money lives to its full meaning, being a medium of exchange. In the case of the National player, it is about who are you contracted for and paid by. In the case of the team that caused a stoppage, are they using the Club's name and claiming to be legends, are about prize money Greed.

One important fact I noticed during the Rumble was the pattern of attendance. When the juniors were on the field early in the day, there was a crowd. Mostly parents. The silk made the difference. There was a decline during the hotter late afternoon, and a pick up seen when it was time for finals and fellowship.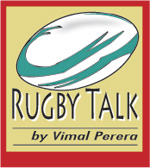 There was an opportunity for conversation and talk of their time in Rugby. Invariably, talk drifted towards School Rugby and talk about the semi professional approach. About a team that has flown to Kiwi Land for pre season training and the twin arch rival collecting money for a trip of their own. Opinion was not inhibited, as the cup that cheers helped to liven up the spirit on a hot and sunny day. The fluid helped to change conversation from School to Club Rugby. Whither the crowds for Club games were discussed, and the hope of attracting more by foreigners being allowed to play, was debated. An interesting point was from where these players would come. Some were sceptical about a group of islanders who might group and have their fix on the outcomes. Same old talk spun in a new barrel.
At the Race Course, an Under-21 tournament was organized by the NIBM campus. An age group where little emphasis was paid and somebody new throwing the hat into the ring. Good for Rugby. In the previous weeks, we had an inter University tournament. Inter University Rugby was previously limited to State Universities. It is now spreading to other private institutes of higher education, with events well attended by fellow students buoyed by the identification of relationships among fellow alumni. Is that an emerging market that has to be fed and who will feed them?