Ceylon Riding Club summer horse on Sept. 22
View(s):

Horses, afternoon teas, hats and marquees, the Ceylon Riding Club Summer Show promises to be a stylish and memorable event.

On September 22, the Ceylon Riding Club is hosting their second horse event at the newly opened riding club at Piliyandala. Just one year ago, Ceylon Riding Club opened its gates for the first time and today it has 300 registered riding members from around 200 families all living in Sri Lanka.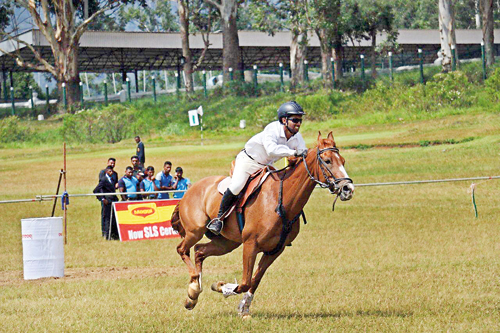 Living and growing up near to the New Forest in England, proprietor, Ms Ineke Pitts is well-accustomed to taking part in an English 'country horse show', and it is a tradition that she would love to see revived in Sri Lanka.
The 'Horse Show' to be held on September 22, is open to all riders and all clubs. Invitations have been sent out and the organisers hope that anyone who has not yet received an invitation and wishes to take part, would contact them as they intend to do their our best to include all those interested.
Afternoon tea elegantly provided by Bakes by Bella will be served under the marquee with panoramic views over the arena and adjoining paddy fields. Guests are encouraged to dust off their top hats, sunhats and pretty frocks to enjoy a vintage country experience in the gardens around our riding club. The main event sponsors include Wijeya News Group and Land Rover, who are also presenting the championship trophy for the event.
The event, which starts at 2.00pm, will include two elementary dressage tests and a special evaluation class for our pony club riders who start as young as three years old. The main purpose of each test is for the rider to learn to communicate effectively with the horse so that the horse can perform simple figures, changes of direction and pace on command. The judges and coaches include international dressage coaches, riders and British Horse Society VIPs.
Dressage is a highly skilled form of riding performed in exhibition and competition, as well as an 'art' dressage develops the connection between horse and rider and is considered by some to be the ultimate equestrian sport.
Dressage promotes, responsiveness, flexibility, and balance. Its origins lie in combat where the agility and flexibility of a combat horse, together with the performance of highly trained movements such as the levade, or the cabriole gave the mounted army a tactical advantage.