Shehan needs a kidney for transplant surgery urgently
View(s):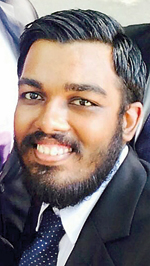 Shehan Mathiasz (25), of E 199, 24th Lane, Isurupura, Malabe has been diagnosed with End Stage Renal disease. Dr. Surjit Somiah, Consultant Nephrologist of Lanka Hospitals,  has recommended an urgent Renal Transplant surgery to be performed.
Shehan's mother Sriyani Bulathsinhala requests any kind donor willing to donate a kidney of A Positive, A Negative, O Negative or O Positive types to urgently contact 071 3061212, 071-7777152.
As treatments for the condition incur high costs, anyone willing to help financially is requested to contribute to Account No: 117557507912 at the Malabe branch of the Sampath Bank, under Account Name Shehan Mathiasz.