Letters to the Editor
View(s):

One day ID service: Some sent from pillar to post, others not

The National Identity Card is an essential document which is required by a Sri Lankan citizen to prove his/her identity when dealing with the authorities. While the authorities have come out with various ways to help the public get their work done efficiently from government institutions, the one- day service for issuing National Identity Cards has failed to achieve its ultimate objectives of a quick and efficient service.

A person applying for a one-day service expects the application to be processed  within the day with clear visibility into the process and timelines. But it was the opposite. Even though the Government has provided the infrastructure to the officials, there are many shortcomings.

It was a Tuesday morning around 8.30 a.m. when I went to the Office of Registrations of Persons after completing all the prerequsites like getting the Grama Niladhari certification and Divisional Secretariat authorization.  As I entered a number printed on a paper and with a stamp was given to us. Even though I was present at 8.30 a.m., I only managed to get a 900 series token . I was asked to stay on the ground floor until my number was called. I waited for more than 2 ½ hours  among hundreds of other people who had come from various parts of the country.

The security and queue management was handled by the Civil Defence Force and a batch of 10 were called in at  intervals and their documents were stamped and inserted to a file which had a totally different sequence serial no. from the token given to us. Then we were  directed to the 9th floor of the building adjoining  it .

When we reached the 9th floor we were asked to wait for another three hours before we were called to submit our documents and pay the one-day fee of Rs.1000 for the services.Until this point we waited according to the token no. given to us at the entrance and at this point the token was collected by the Civil Defence Force personnel and not returned. While we were awaiting for our numbers to be called we also saw several people with previous number series walking through the door and directly entering the queue which means that the collected  numbers are not being destroyed and a few are being given back to the people coming late.

Once the payment was made it was about 1.15 p.m. The officials asked all the people who have submitted their papers to wait in Room A on the 9th floor. There was no time given to the people who applied and they were just asked to wait till their names were called by the counters. On that day, out of the 10 counters only three were operating and every half hour a batch of 30 names was called.

Most people were waiting without having a cup of tea or even lunch for many hours in that room. After four hours I lost my patience and inquired from an official on the status and he said that the ID card is printed and would be delivered with the next batch. Most of the people were agitated and disappointed as the sequence was not followed when delivering the ID cards as people who came very much in advance  had to wait without any reason for many hours while a few people who arrived later got it very quickly .

Even though I got mine around 5.30 p.m. there were still hundreds waiting in the room to get their IDs. The officials said they will somehow deliver all the applications during the day . When I collected mine I saw that there were around 5-6 bundles of ID cards which were printed but not announced as there were only three counters operating.

A few questions to the authorities:

1)             Why can't we follow the token sequence till the end of the process?  Why can't the authorities display the token number when delivering the IDs so that there is visibility and faith in the system?

2)             Why can't the officials ask the people to come at a specific time in the evening after calculating the average process time?

3)             If the Department of Registration of Persons can't handle the number of people, why not limit the intake of applicants for a day?

4)             Can't the officials have a priority line for clergy, the disabled and defence forces personnel ?

I am sure that 90 % of the people are unsatisfied with the service offered. While appreciating the hard work put in by the officials, a few improvements could make the process more efficient.

Over to you Commissioner – Department of Registrations of Persons.

Raaj  Via email
---
A narrow escape indeed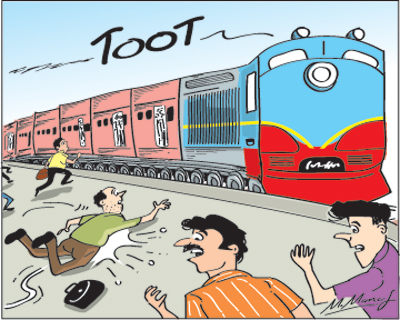 On August 3, I had to make a journey by train. After buying the ticket to my destination, I had to ask for the key to use the wash room at the railway station. While I was in there, I heard the train arriving, and rushing to hand over the key, dashed towards the train that had started. Unfortunately on my first attempt to board the train, I fell flat on the platform with my travelling bag as my foot slipped.
Getting up, I ran for the train and threw my bag inside the train and managed to board with the greatest difficulty, when the train that was gathering speed was just leaving the platform. Two strangers helped me by pulling me inside the train. I thanked them immensely for the great favour extended. But I realised I had had a narrow escape.
Considering the risk taken at my second attempt to board the moving train, if it had been a failure, I would have lost everything in my bag- money, NIC, bank books,visa cards, mobile phone, and also all my original testimonials.
A bit of advice to everyone, especially travellers by rail. Never try to get into a moving train either to board or alight. 'Speed can always kill you' and often it does. If you miss the train, take the next, however important your mission.
FGW
---