Go purple
By Dr. Nirmala M. Pieris
Continuing our series on 'Coloured Vegetables'
View(s):
The colour purple combines the calm stability of blue and the fierce energy of red and often symbolizes royalty and magic. So, this magical purple has many advantages even when it comes to vegetables that come in varying shades. They are rich in anthocyanins that are flavonoid pigments with many health-boosting antioxidant properties. Anthocyanins while preventing cell damage, benefit vision in a number of ways, such as by enhancing night vision and fighting macular degeneration. They also contribute towards improving cardiovascular health, inhibiting the growth of colon cancer cells and have strong anti-inflammatory properties which might help alleviate symptoms associated with rheumatoid arthritis.
Further, the purple pigment helps fight varicose veins by promoting circulation and overall health of the vascular system while also offering protection to your brain to prevent cognitive decline. So while all purple vegetables have many of these properties each of them also have their own specific advantages.
Brinjal
Brinjal, Solanum melongena in the family Solanaceae also known as eggplant or aubergine, comes in varying colours of purple, white and green. They are a nutrient dense food, and contain good amounts of vitamins, minerals and fibre and few calories. The anthocyanins and other nutrients in aubergines are in the skin, so be sure to keep the skin on when using this vegetable. Adding eggplants to your diet may help keep your blood sugar in check primarily because they are high in fibre that can lower blood sugar by slowing the rate of digestion and absorption of sugar in the body.
Other research also suggests that polyphenols, or natural plant compounds, found in eggplant may reduce sugar absorption and increase insulin secretion, both of which can help lower blood sugar. As aubergines are high in fibre and low in calories, they make an excellent addition to any weight loss regime.
Kehel muwa
Commonly called Kehel muwa it is the plantain flower or the banana blossom from the banana plant of the species Musa in the family Musaceae. This vegetable perfectly handles free radicals that cause damage to the body and treats many health issues, such as premature aging and cancer and inhibits the growth of pathogenic bacteria. Banana flowers contain vitamins A, C and E as well as potassium and fibre. Since they also contain magnesium, kehel muwa reduces anxiety and boosts mood and is thus a natural anti-depressant without any side effects. Moreover, cooked kehelmuwa also helps in easing pain during menstruation and reduces bleeding. Banana flowers are also reported to reduce blood sugar levels as well as increase total haemoglobin levels in the body.
Maa Karal
Maa karal (makaral), Ma, Vigna unguiculata, sub. sesquipedalis in the family Fabaceae also known as yard long bean is a very low calorie vegetable. Young immature pods contain large quantities of soluble and insoluble fibre. Dietary fibre helps to protect the colon mucosa by reducing its exposure time to toxic substances as well as by binding to cancer-causing chemicals. Fresh beans are one of the finest sources of folates which along with vitamin B-12 are essential components of DNA synthesis and cell division. Further,they contain a good amount of vitamin C- the powerful water-soluble antioxidant and are additionally an excellent source of vitamin A.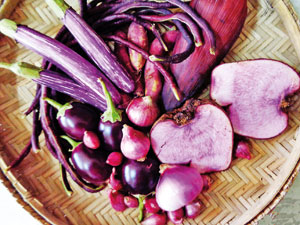 Onions
Onions, Allium cepa in the family Amaryllidaceae, also called Bombay onions and red onions, offer a healthy way to give your meals more flavours and provide nutrients without adding many calories. Onions are rich in quercetin and sulfur containing compounds which are responsible for the smell, flavour and the tears you often experience when cutting onions. Quercetin acts as an antioxidant and an anti-inflammatory, helping limit the risk of cancer and heart disease while the sulfur compounds may help lower risk of growth and spread of tumours. Red or purple and yellow onions contain more antioxidants that protect your body from the damaging effects of free radicals than the white ones. The high-fibre content of onions also makes them beneficial for your bowels.
Raja Ala
Raja ala, Dioscorea alata in the family Dioscoreaceae also called purple yam is usually vivid violet to bright lavender in colour. A starchy tuber well known for its filling properties, it is also recognized for its protein, mineral and vitamin C content. Perfect as an immune booster it has anti-inflammatory properties and serves as an antidote against abdominal and intestinal cramping. They are popular boiled and served with coconut and katta sambol and also as a dessert.
Sweet potatoes
Sweet potatoes, Ipomea batatas in the family Convolvulaceae have purple to pink to white skins. Purple skinned sweet potatoes, are low in carbohydrates and fat and an excellent source of fibre and vitamins. Use it with the skin to get the benefit of the anthocyanin pigments. The colour of the edible flesh can vary from cream to yellow to orange. The deeper the colour, the more beta-carotene your eyes and body will enjoy. Orange and yellow versions contain more vitamin A than other varieties. Sweet potatoes are also known for their ability to help in healthy weight gain, boosting immunity and regulating digestion among several other benefits.
Other purple veggies
Carrots, cauliflower, potatoes, asparagus, brussels sprouts, knol kohl and peppers all come in purple varieties, though not very common. They all have the nutrients that are found in the common varieties but have the additional benefit of containing the anthocyanin pigment and thus providing extra health benefits. Additionally purple cauliflower ( not grown in Sri Lanka) contains the compound glucoraphanin, which is also found in broccoli. Many studies have associated broccoli with reducing the risks of developing diseases such as cancer and heart disease and ongoing research is pointing towards glucoraphanin being the compound responsible for these health benefits.
So there you are…many reasons to go purple.